David Bell, Ed.D., To Lead The School of Education at St. John's University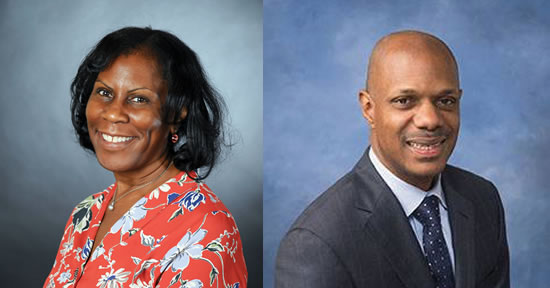 (L-R) Yvonne Pratt-Johnson, Ed.D. & David Bell, Ed.D.
St. John's University announced that David Bell, Ed.D., became Dean of The School of Education effective August 1, 2019.
Dr. Bell earned his B.S. in Finance from the University of Illinois Urbana-Champaign and his M.Ed. and Ed.D. in Curriculum and Instruction from Loyola University at Chicago. As a faculty member, Dr. Bell has extensive teaching experience at the undergraduate and graduate levels. He has been awarded more than $1.6 million in external funding and has published in the field of diversity, equity and inclusion, and teacher professional development.
Dr. Bell comes to St. John's from West Chester University, Pennsylvania, where he served as Associate Dean for Curriculum and Accreditation in the College of Education and Social Work. During his tenure, he was instrumental in developing a valid and reliable assessment system and coauthored a grant to recruit veterans into the teaching profession.
Prior to joining West Chester University, Dr. Bell was an Associate Dean at Saint Xavier University in Chicago. In his role as Associate Dean, Dr. Bell oversaw academic program and curricular development, assessment, faculty development, and accreditation.
Dr. Bell brings outstanding leadership skills to St. John's in many critical areas in higher education, including planning and operations, student enrollment and budget forecasting, student recruiting, student advising, and external outreach. Examples of his many accomplishments include the development of a pre-freshman bridge program, a junior faculty development mentoring program, a community-based principal preparation residency program, and urban high school partnerships to serve minority students.
Dr. Bell has also served as an Instructional Leader for the Illinois State Board of Education, as an Illinois State Regional Evaluator for Chicago Public Schools, and as a Lead Coach for the implementation of the Illinois Response to Intervention at schools within the Archdiocese of Chicago.
Dr. Bell replaces Yvonne Pratt-Johnson, Ed.D., who served as Interim Dean of The School of Education and will now serve as the School's Chair of the Department of Education Specialties.
About St. John's University
St. John's University is a private, coeducational, Roman Catholic University founded in 1870 by the Congregation of the Mission ("Vincentians"), with its main campus located in Queens, NY. St. John's University also has campuses and locations in Staten Island and Manhattan, and on Long Island, NY; and in Rome, Italy; Paris, France; and Limerick, Ireland. St. John's University is comprised of six colleges, including the College of Pharmacy and Health Sciences, College of Professional Studies, St. John's College of Liberal Arts and Sciences, The Peter J. Tobin College of Business, The School of Education, and St. John's School of Law. As of fall 2018, the University has 1,559 full-time and part-time faculty, 16,884 undergraduate students, and 4,759 graduate students who come from 47 states and 123 countries. #