Phyllis Kossoff and Delta Phi Epsilon Make Breakthroughs for Cystic Fibrosis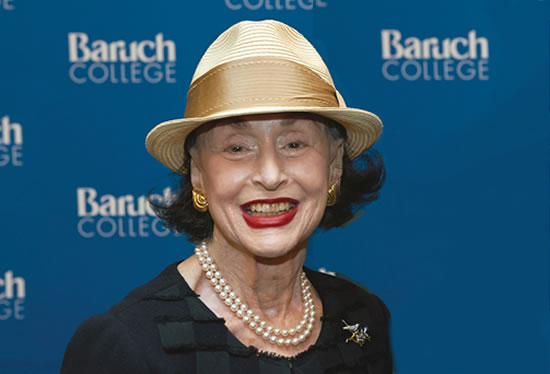 Phyllis Kossoff
Phyllis Kossoff turned tragedy into hope in the shape of the National Cystic Fibrosis Research Foundation.
In the early 1950s, Phyllis Kossoff and her husband Burton noticed that their first-born daughter Stephanie was failing to thrive. She was beset with a chronic cough and wheezing. It was determined that their daughter had Cystic Fibrosis, a hereditary disorder affecting the exocrine glands that causes the production of abnormally thick mucus which causes blockage of the pancreatic ducts, intestines, and bronchi and often results in respiratory infection. Alarmed by the lack of public knowledge regarding cystic fibrosis, Phyllis and Burt joined with other scared parents to create the Cystic Fibrosis Research Foundation.
Phyllis, a member of Delta Phi Epsilon, knew she could turn to her sisters for help. In 1957, she traveled to Chicago to attend DPhiE's 40th anniversary celebration and national convention. There, she turned to her sisters and asked for help to fund the research needed to find a cure. She was met with much more than funds. Her loyal sorority stood behind her as they entered into a partnership that has lasted over 60 years.
The Foundation grew quickly. In six years, they had established 30 accredited centers. For the first time, parents battling CF had resources and experts to turn to. Patients started to outlive their prognosis.
The foundation immersed itself in research and new discoveries while DPhiE continued to raise money. The life expectancy for CF patients continued to rise and new discoveries continued to be made.
In 1971, the Kossoffs lost Stephanie to CF. Though this was a heartbreaking time, the fact that Stephanie had far outlived her expectancy provided a silver lining. As the 1980s progressed, the foundation continued to grow. More than 100 care centers across the country became accredited and the group launched the Cystic Fibrosis Services Pharmacy. The money continued to come in with the support of DPhiE. Every single chapter continued to provide support for the foundation, which in 2012 would discover a major turning point in CF research. A new drug was discovered. This drug addressed the underlying cause of the disease and pointed closer than ever to a cure.
If not for the determination of Phyllis Kossoff along with her sorority's help, people living with cystic fibrosis would be living with a much dimmer outlook. #