Applying for Pre-K, 3-K, and Other Early Childhood Education Programs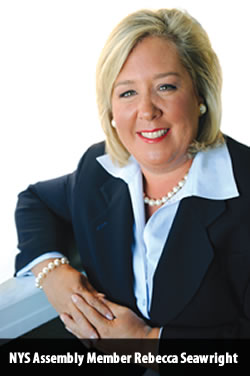 As a member of the New York State Assembly and its Education Committee, one of the areas of progress I'm most proud to have been a part of is the expansion of New York City's Pre-K for All program. Very soon in the new year—between early February and March 15—families with children born in the year 2015 can apply for full-time Pre-K programs provided by the NYC Department of Education.
These programs offer full-day, high quality, no fee opportunities for four-year-olds who are residents of the City. As a working mom and former Parents and Teachers Association (PTA) activist, I understand the great importance of quality early childhood education programs. We must provide for the essential developmental needs of our children. This is critical for each of them and to all of us, as a society. Not only is it enriching for the child, but also Universal Pre-K provides a critical resource for our working families.
Pre-K is offered at a variety of settings: At our district schools, at early education centers as well as at district-level pre-K centers that have been established to offer high caliber education for our young children. In fact, in the 76th District which I represent, there are now 563 seats for four-year-olds attending full-time pre-K. This past spring, we co-sponsored a ground-breaking ceremony at what will become the East 76 Street Early Education Center, which will provide an additional 180 seats for pre-K education by fall 2019. Happily, evidence of this trend of continuous expansion is happening throughout NYC. Furthermore, the City is also beginning to invest in 3-K for All, a program that provides free, full-day early childhood education for three-year-olds. There are not as many sites, though, and at present, admission to any 3-K program is City-wide, thus making it a very competitive process. There is a commitment to further expand 3-K.
Now is the time for parents and guardians of soon-to-be four-year-olds to research the different opportunities for their children. Consider all the options! Visit the schools and early childhood centers for a tour and file an application by March 15. This year, information materials regarding site locations and the application for Pre-K is available online at MySchools.nyc. One can also call the NYC DOE at (718) 935-2009 for an admissions guide or pick one up in person at a NYC DOE Family Welcome Center as well as at my Community Office (1485 York Avenue). You could also contact us by email at seawrightr@nyassembly.gov or by phone at (212) 288-4607 and we will make sure you get the information you need to make an informed decision. #
Rebecca Seawright represents the people of the 76th District on the New York State Assembly. The 76th District includes Roosevelt Island and parts of the Upper East Side.