BOOK REVIEW

Amazing Things Are Happening Here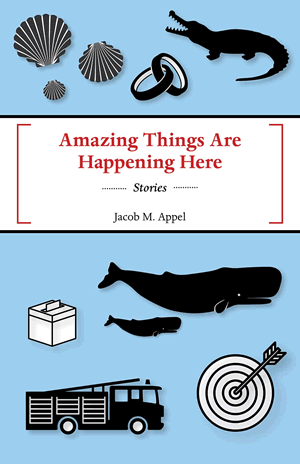 Amazing Things Are Happening Here
By Jacob Appel
Black Lawrence Press, 152 pp., $17.95
It's long overdue to declare this now, but with his new collection of short stories (usually eight), polymath creative writer and career professional (physician, lawyer, bioethicist, social critic, playwright, teacher), 45-year-old Jacob Appel has become (at least to this reviewer) eponymous.
To reference a "Jacob Appel" story is to suggest bizarre content, usually apparent in an opening line: "I was once—briefly –a suspect in a murder investigation" is the way the first story, "Canvassing" begins. It's about a "full-fledged infatuation" the first-person narrator had on a girl in school years ago. Gorgeous, precocious Vanessa had taken up with a gruff local guy, hardly in her intellectual or social class who shows up 35 years later, prompting the story's bizarre last line: " . . .for a few fleeting seconds, even I wasn't certain which one of us had crushed her skull with the stone."
In Appel stories, the reader gets a lot more than expected – info on all manner of subjects, some of it arcane. In "Canvassing" voting and politics inform the story of the lovelorn narrator and his cool lady love with an ironic and witty critique of democracy in action. In other stories, readers learn about wrestling alligators ("Grappling"), leukemia ("Embers," which features another out-of-reach Vanessa, seen through the eyes of a narrator as he looks back at his "hormone-frenzied expanse of adolescence." The story also catches the reader up with some powerful serious prose -- another Appel maneuver: "This was several years before my own father's death –before I would discover the volatility of success and the sanding effect of fear upon power." Note that image - "sanding effect." Appel handles surprise to moving conclusions. In "Helen of Sparta" Laney Beck, a brash, sarcastic, loony friend of the narrator's mother, makes a sudden appearance in a tale about high school that evolves into a tale of admiration for the odd ball visitor, but also shows how her peculiar behavior brings out suppressed affection between the narrator and his older brother.
Names are adroitly inserted into Appel stories with such ease that it may also be said that his eponymous rep also turns on exemplifying this stylistic device – a smooth, natural way of letting the reader know who, what, where, and when. As for why and what it means, that, too, is distinctively Appel. The takeaway is not what you think it will be, and it will stay with you, after the story ends.
In "The Bigamist's Accomplice," arguably the most eccentric and engaging in the collection, third person takes over and the setting is a nursing home. It begins this way: "Arlene's husband offers her a pair of clay elephants and tells her that he intends to marry another woman." Here, Dr. Appel delivers lore from his medical life and does so to stunning advantage, blending absurdity and compassion for Arlene, for her husband who has dementia, for the in-house inamorata and the other woman's husband, a judge.
The title story "Amazing Things Are Happening Here" could stand for the situations in the entire collection and in fact does. In an Appel story it's not immediately clear who's talking if it's a he or she, young or old, someone somewhat adjusted or ready to act out fantasy. Here, in a wild send up of a V.A. (Veteran's Affairs) hospital psycho ward, the narrator, who turns out to be a male nurse, pulls off satire and social criticism of medical care along with a hilarious con game the narrator instigates to protect himself because a patient has gone missing. The delight is seeing how he gets brings others to his way of thinking, while slyly indicting an indifferent medical staff.
Sometimes, the stories are just plain lovely. "Dyad," a wonderful look at a family of whales -- a cow, her baby and a protective bull -- follows a recently divorced and dedicated oceanographer from Catalonia and his young daughter out on the narrator's boat off Narragansett Bay, and segues seamlessly into story about life and death. At the end of the adventure, the narrator is unsure of what she will tell her husband about her unusual day – a part of her will come home to him "for comfort," but another part "will remain out there in the sand."
To read "an Appel tale" is to be drawn into unexpected, often hilarious, poignant situations set in believable contexts. It's to be seduced into accepting that untypical and eccentric may be normal and inevitable. It's to acknowledge that odd-ball conclusions work because they have been made satisfying and ambiguous. For sure, other contemporary authors write of the absurdity of so-called real life, but Jacob Appel seems to have mastered that integration in a unique way.#