The American Folk Art Museum Announces New Endowment Fund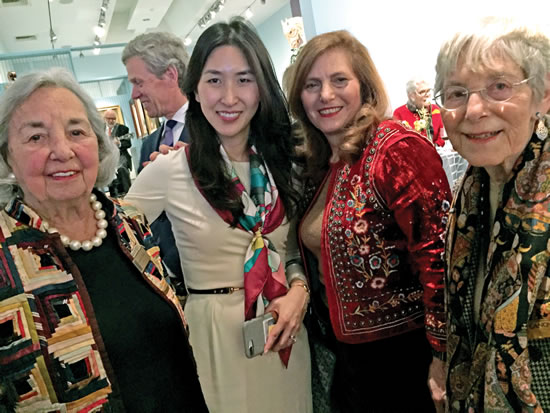 (L-R) Joyce Cowin, Helen Cowin, Hunter College President Jennifer Raab, Dr. Ruth Gottesman
Recently, the American Folk Art Museum in New York City announced the creation of the 30/60 Anniversary Endowment Campaign. At the event held at the museum in Lincoln Square, trustees, supporters, and friends came together to celebrate this and other milestones. Among those present was philanthropist Joyce B. Cowin, who currently sits on the American Folk Art Museum Board of Trustees. Cowin is a long-time supporter of the museum, and first joined the board in 1992, to replace her late husband Daniel.
Cowin delivered an animated speech during the evening's festivities that traced her Folk-Art loving roots back to street fairs with her husband. She shared how purchasing a small Tramp Art box at a fair sparked a life-long love of folk art that has carried on to this day. Cowin took the opportunity to share that after a brief time away last year, she was thrilled to be rejoining the Board of Trustees. "With joy and enthusiasm, I look forward to a robust and exciting tenure!"
After the words from Cowin, the new Director of the American Folk Art Museum, Jason T. Busch, took to the microphone to share some more exciting news. First, he praised Cowin for her heartfelt generosity and "wonderful goodwill". He said, "there would not be an American Folk Art Museum if not for Joyce Cowin" and credited her with securing a future for the museum. The attendees applauded in agreement. He then went on to formally announce the creation of the 30/60 Endowment Campaign. This new initiative comes as the museum celebrates 30 years at the Lincoln Square location. In addition, the museum will soon enter its 60th anniversary (in 2021) since its founding in 1961. Busch jokingly added that perhaps the campaign should be renamed 30/60/90 in celebration of Cowin's 90th birthday! The director also announced the museum's first endowed gallery: The Jonathan and Karin Fielding Gallery.
The campaign has been wonderful for the institution. In the early stages, the museum raised $4.5 million in gifts and pledges and $2.5 million in bequests totaling $7 million committed. #