DISTINGUISHED LEADER IN EDUCATION 2019
Lewis E. Lehrman, M.A.
Co-Founder, Gilder Lehrman Institute of American History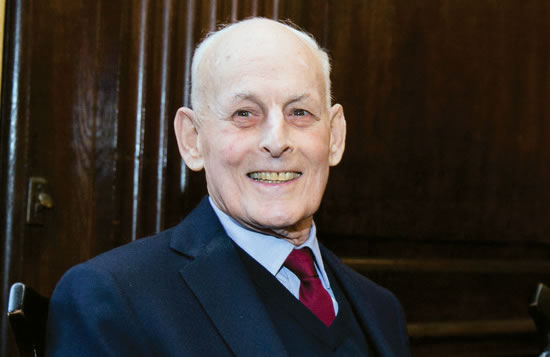 Lewis E. Lehrman, M.A., Co-Founder, Gilder Lehrman Institute of American History
Lewis E. Lehrman was presented the National Humanities Medal at the White House in 2001 for his work in American history. He has written for the Finest Hour, Washington Post, The Churchill Project at Hillsdale College, New York Times, Wall Street Journal, National Review, New York Sun, Harper's, and the Lehrman Institute (www.abrahamlincoln.org). Lehrman has authored Lincoln at Peoria: The Turning Point (a history of Mr. Lincoln's anti-slavery campaign from 1854 to 1865); Lincoln "by littles" (collected essays about President Lincoln); Money, Gold, and History (essays analyzing the modern history of money and its role in civilization); Churchill, Roosevelt & Co.: Studies in Character and Statecraft (a study of the Grand Alliance and its leaders in World War II), and Lincoln & Churchill: Statesmen at War, among other books.
Lehrman, with Richard Gilder and Professor Gabor Boritt, co-founded the Lincoln & Soldiers Institute at Gettysburg College and established the Lincoln Prize for the best work on the Lincoln era. Lehrman and Gilder established the Gilder Lehrman Center for the Study of Slavery, Resistance, and Abolition at Yale University, which awards the Frederick Douglass Book Prize. Together they developed the Gilder Lehrman Collection of original historical manuscripts and documents to teach American history from primary sources. The collection is on deposit for public access at the New-York Historical Society. The Gilder Lehrman Institute of American History has developed a national program for teaching American history in high schools and colleges throughout America (gilderlehrman.org).
Lehrman received a BA from Yale and an MA in history from Harvard. He was a Carnegie Teaching Fellow in History at Yale and a Woodrow Wilson Fellow in History at Harvard. He has been awarded honorary degrees from Babson College, Gettysburg College, Lincoln College, Marymount University, and Thomas Aquinas College.