Mayor Bill de Blasio Congratulates the Outstanding Educators of the Year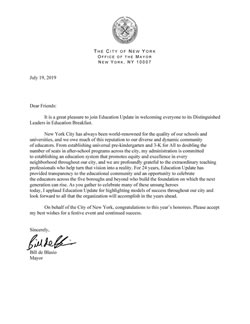 July 19, 2019
Dear Friends:
It is a great pleasure to join Education Update in welcoming everyone to its Distinguished Leaders in Education Breakfast.
New York City has always been world-renowned for the quality of our schools and universities, and we owe much of this reputation to our diverse and dynamic community of educators. From establishing universal pre-kindergarten and 3-K for All to doubling the number of seats in after-school programs across the city, my administration is committed to establishing an education system that promotes equity and excellence in every neighborhood throughout our city, and we are profoundly grateful to the extraordinary teaching professionals who help turn that vision into a reality. For 24 years, Education Update has provided transparency to the educational community and an opportunity to celebrate the educators across the five boroughs and beyond who build the foundation on which the next generation can rise. As you gather to celebrate many of these unsung heroes today, I applaud Education Update for highlighting models of success throughout our city and look forward to all that the organization will accomplish in the years ahead.
On behalf of the City of New York, congratulations to this year's honorees. Please accept my best wishes for a festive event and continued success.
Sincerely,
Bill de Blasio
Mayor