Sgt. York, a Military Hero, for Whom York Avenue in NYC is Named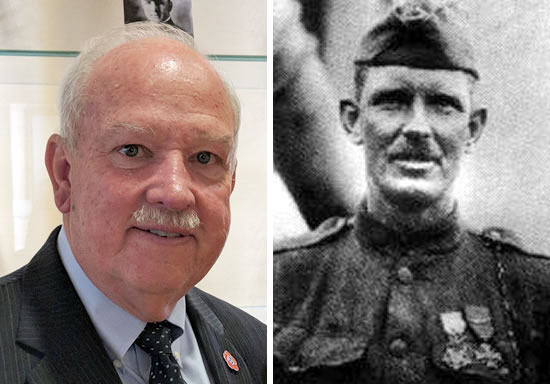 (L-R) Gerald York and Sergeant Alvin York. Picture Courtesy of Gerald York.
Sergeant Alvin York's grandson, Gerald York from Tennessee, recently appeared in NYC arranged by Assemblywoman Rebecca Seawright. We were privileged to interview him.
When did your grandfather serve in World War I? Where did he serve, and what rank did he obtain? He was drafted in 1917 and arrived in France in 1918 with the 82nd All American Division. He was a Corporal and was in an Infantry Company.
What did he do to earn the medal of honor from the US? He was involved in the Meuse-Argonne Offensive to break the German lines and he and 17 others were sent to go behind the enemy lines to try and silence the machine guns that had stopped the forward advance of the American troops. They came across a German headquarters and immediately captured about 70 Germans. The machine guns on the hill turned their guns around and fired on the Americans. Six were immediately killed and three were wounded and the rest were pinned down by the machine gun fire. He was in a position to fire on the German machine guns and being an excellent marksman, was able to pick off several machine gun emplacements as they looked to see from where he was firing. At one point he was rushed by a group of Germans and he used his pistol to shoot from the back to the front of the group until the last guy was shot. The German officer he had captured offered to have his men surrender if he would not kill any more of them. They surrendered and he ended up with 132 Germans.
What was his job before the war and after the war? He was a farmer and worked at odd jobs. Just before the war, he was employed as a road worker building a road into his area. After the war, he became a speaker and went around the country raising money to build a school which he built and ran and funded, a four-year high school for over ten years before giving the school, 400 acres, buses, etc. to the State of Tennessee. He continued to farm and raised crops and had cattle, hogs, and sheep.
Did you know him well? Did he share his war stories with you? I was 17 when he passed away, so I got to spend time with him. He never talked about his war experiences, but was always interested in what everyone else was doing. He had a stroke in 1954 and was bedridden for ten years before passing away in 1964. He was a fantastic grandfather with a good sense of humor; he was always willing to talk to his grandkids and gave me a dollar when we would leave from visiting. I was able to spend time with him the last three years of his life and did hear him talk about some of his experiences during this time.
What was your career focused on? I spent 31 years in the US Army, and now am active with the Sergeant York Patriotic Foundation. This is an outgrowth of a foundation my grandfather started in the 1920s to raise money to fund building and operating a school for the local children.
What means the most to you at this stage of your life? His life and what he left his family in the way of values, honesty, courage, and the ability to do the right thing even when it was tough. I am currently the Chairman of the Sergeant York Patriotic Foundation and in the process of continuing his legacy and vision of helping the community, young people and veterans through the Sgt. York Center for Peace and Valor. Later in life he was asked what he wanted to be remembered for and he said his contribution to education, bringing education to the children of rural Tennessee in his county and in helping the community. We are in the process of restoring the original building he built in the mid 1920s to house this Center. #