Performing Arts Museum Salutes Robbins And City Center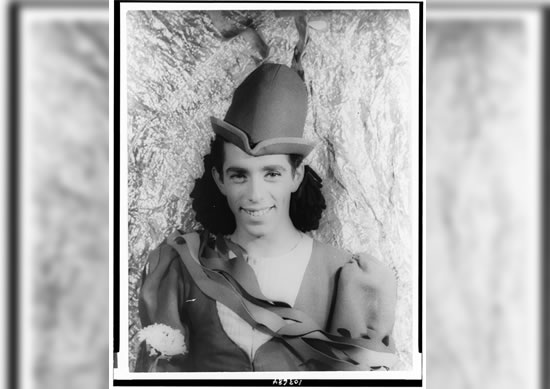 Jerome Robbins
"My city lies between two rivers — on a small island. My city is tall and jagged — with gold + slated towers. My city is cut + re-cut + slashed by hard car-filled streets.
My city chokes on its breath, and sparkles with its false lights — and sleeps restlessly at night. My city is a lone man walking at night down an empty street watching his shadow grow longer as he passes the last lamp post, seeking no comfort in the blank dark windows, and hearing his footsteps echo against the building + fade away."
Thus Jerome Robbins, noted dance-choreographer describes New York in "Voice of My City", an extraordinary exhibit at the Performing Arts library, honoring this extraordinary human being. His story is best enjoyed by leisurely strolling and savoring the posters and videos (my favorite: Robbins instructing the young Mikhial Baryshnikov leaping in red tights).
Briefly: Born Jerome Wilson Rabinowitz in New York on October 11, 1918 into a family of Jewish immigrants and a world recovering from the devastation of World War 1, the Rabinowitz family arrived with cash but worked their way to stability. His parents Harry and Lena worked in a Manhattan deli, moving with their two small children across the Hudson to manage a corset factory.
Encouraged by his mother, young Jerry followed in his older sister's footsteps, investigating a range of artistic activities, from music to drawing to dance. By the end of high school, he sensed [that] more choices lay across the Hudson River. Indeed, by the time Jerry died at home on July 29, 1998, he and his enduring accomplishments had been recognized with a National Medal of the Arts in 1988. New York City Ballet staged a Robbins' festival in 1990.
He ferried to New York to attend college for a year (he studied chemistry at NYU), but finding a job was a dim possibility during the Great Depression, and he immersed himself in the Arts. He enrolled at Gluck Sandor's Dance Center, where Sandor and his wife, Felicia Sorel, introduced him to modern dance, character acting, and dramatics. Here he also changed his name to Jerome Robbins, performed on Broadway, choreographed and directed at a Poconos summer camp, and danced with Ballet Theater (now the American Ballet Theater) as well as in roles choreographed by Agnes de Mille, Michel Fokine and Anthony Tudor — and looked for opportunities to choreograph. Robbins was fascinated by a common sight of the early 1940s sailors on leave in the city, a common site in the midst of war. Finding just the right collaborator in the conductor-composer Leonard Bernstein, Robbins was also searching for his place in the music world by defining American style. Their collaboration? Fancy Free debuted April 18, 1944 and prompted over 20 curtain calls. (Fancy Free's movie version — my introduction to Robbins —starred Gene Kelly, Frank Sinatra, and Vera Ellen.)
Now famous, he was hired as Associate Artistic Director of the New York City Ballet, choreographing such obras maestras as "Age of Anxiety," (1950) and "Afternoon of a Faun" (1953) and hit musicals such as "The King and I" (1951) and "Peter Pan" (1954). Strolling the exhibit is the most satisfying way to experience it. Galleries are filled with marvelous visuals projecting his dancers performing.
We learn and see evidence of his sketching, photography skills, and journal writing. The exhibit is thoroughly engaging for its minutia. But I'm willing to bet that most compelling to visitors will be one of his masterworks, "West Side Story." Choreographer and director Robbins, composer Leonard Bernstein, and playwright Arthur Laurents first conceived a contemporary version of Romeo and Juliet as a conflict between Jews and Catholics at a New York street festival on the Lower East Side as their parents might have experienced it. But when they looked at their New York of the 1950s, their conflict between New York gangs became "West Side Story." See excerpt in the exhibit.
Consider my observations your appetizer to a Robbins banquet at the museum. Stroll to experience film clips of dancers interpreting Robbins choreography, and Robbins instructing dancers. See posters from his Broadway shows, and other memorabilia.
And there's more!
Another exhibit salutes City Center with "The Peoples Theater", a major dance showcase for 75 years. Savor a trove of memorabilia and especially fine photographs of Melissa Hayden and other beautiful ballerinas and handsome male dancers like Herman Conejo. Dancer Twyla Tharp created her own distinct style. Another City Center innovation "Encores" is dedicated to the revival of beloved long-ago musicals. Vitrines outside the main exhibits are a trove of odd and touching memorabilia, and the Al Hirschfeld exhibit upstairs salutes the Center.
Robbins and City Center exhibits have listening stations where visitors can hear Robbins Voice of My City until March 30 and The Peoples Theater until March 2. #