Ballet Hispanico Dazzles at the Apollo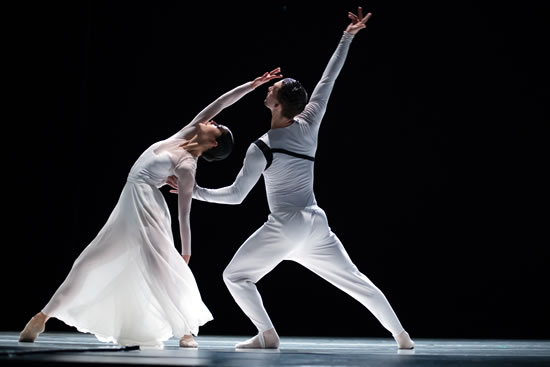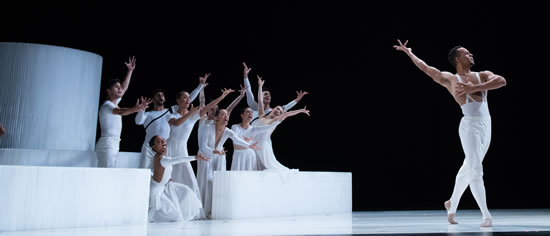 Recently, the acclaimed Ballet Hispanico returned to the Apollo Theater to present the smoldering CARMEN.maquia. CARMEN.maquia is a Picasso-inspired interpretation on Bizet's classic opera that fuses sensual flamenco dance styles with Spanish paso doble and contemporary dance. Originally created for the Luna Negra Dance Theater of Chicago, CARMEN.maquia premiered in New York at the Apollo in 2014 and is the first full-length narrative dance work in Ballet Hispánico's nearly 50-year history. It is choreographed by Gustavo Ramírez Sansano, who was the Artistic Director of Luna Negra Dance Theater from 2009 through 2013.
The story of Carmen is well known; the tragic opera, written by the French composer Georges Bizet, tells the tale of Don José, a naïve sailor who kills the seductress Carmen in a jealous rage. Ballet Hispánico presents Carmen through a Modernist lens that finds the dancers performing against a stark white background made up of paper-like accordion props in striking black and white costumes that exude confident sensuality.
Shelby Colona shines as the titular character. From her first appearance in a black ensemble amongst a sea of white, she commands your attention. She dances assertively yet gracefully and showcases her incredible physicality with each movement. She is a perfect Carmen. Jared Bogart is an equal counterpart in the role of matador Escamillo with a palpable machismo and affecting bravado; the interplay between the two dancers is notable. Chris Bloom rounds out the lead trio as Don José with a heartbreaking, emotional performance.
Once again, Ballet Hispánico proves why it is one of the most unique and important dance companies in the United States. CARMEN.maquia is a transcendent experience that is not to be missed.
Ballet Hispánico is the premier Latino dance organization in the United States. It has been bringing individuals and communities together to celebrate and explore Latino cultures through dance for nearly 50 years. Whether dancing on stage, in school, or in the street, Ballet Hispánico creates a space where few institutions are breaking ground.
The organization's founder, National Medal of Arts recipient Tina Ramirez, sought to give voice to the Hispanic experience and break through stereotypes. Today, Ballet Hispánico is led by Eduardo Vilaro, an acclaimed choreographer and former member of the Company, whose vision of social equity, cultural identity and quality arts education for all drives its programs.
Ballet Hispánico, a role model in and for the Latino community, is inspiring creativity and social awareness in our neighborhoods and across the country by providing access to arts education. #