The Joan Tisch Legacy Project at Roosevelt House, Hunter College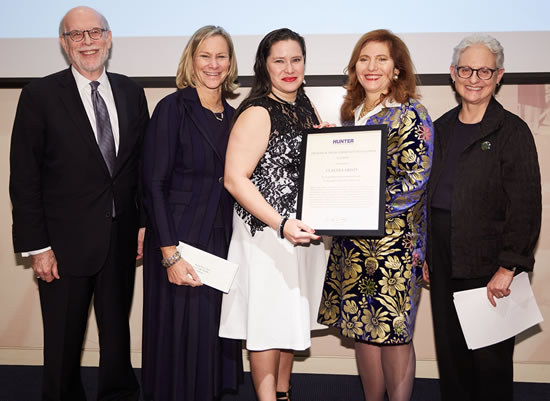 (L-R) Harold Holzer, Laurie Tisch, Claudia Aristy, President Jennifer Raab, Hunter College
The Joan H. Tisch Legacy Project was established in 2011 to honor the legendary humanitarian activist Joan H. Tisch who died in 2017 at age 90. The project awards $10,000 annually to both an individual and an organization in recognition of contributions to urban health.
The winners this year were Claudia Aristy, the program Director of Children of Bellevue's Reach Out and Read program originally founded by Dr. Perri Klass. The Service Program for Older People (SPOP) was also an awardee. Located on the Upper West Side, it serves more than 2000 adults each year.
Centered at Roosevelt House Public Policy Institute, Roosevelt House was the home of Franklin and Eleanor Roosevelt before they moved to the White House. It has been part of Hunter College since 1943 and reopened in 2010 as a public policy institute.
Laurie M. Tisch, the daughter of Joan Tisch, was instrumental in establishing and supporting the Joan H. Tisch Legacy Project. She is the president of the Laurie Tisch Illumination Fund, vice-chair of the Board of Trustees of Lincoln Center for the Performing Arts, trustee of the Aspen Institute, and a co-owner and a member of the Board of Directors of the NY Giants. She is also a trustee and past Co-Chair of the Whitney Museum and the Founding Board Chair of CMOM. She has an honorary doctorate from Yeshiva University. #