Edgar Degas House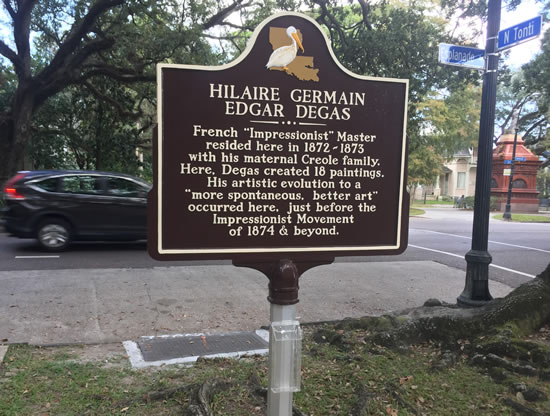 In the Esplanade Ridge Neighborhood of New Orleans sits a historical home, studio courtyard, and inn. This International Impressionist treasure is the only home of Edgar Degas open to the public in the whole world! Today the house is a museum and hosts guided tours, bed and breakfast guests, as well as special events and ceremonies such as weddings.
Built in 1852 at a time when the developers in the growing city were purchasing area plantations to build neighborhoods, architect Benjamin Rodríguez designed this house as his own home, and was one of many impressive mansions on Esplanade Avenue. Degas' uncle, Michel Musson, eventually rented the house (he had lost his own Garden District mansion due to the financial hardships in the Civil War…Michel was originally a planter and exporter of cotton, but became the city's postmaster), and in 1872, after France's defeat in the Franco-Prussian War, took in his nephew for a prolific five-month-long stay. Although New Orleans during this time experienced a robust period of growth during the reconstruction period, Musson was suffering financial stress and became heavily indebted.
Edgar was an up-and-coming 30-year-old artist who had never exhibited before traveling to Dixie. While staying in the house, Degas produced a number of paintings, most of which were of family members. One of these works, A Cotton Office in New Orleans, gained attention back in Paris and was his only work purchased by a museum during his lifetime.
The fact that Edgar Degas happens to be the only French Impressionist to have visited the United States, and more significantly New Orleans, forever strengthened the historic bond between the City of Light and the Crescent City. #