Eric Kandel: The "Prototypical" Nobelist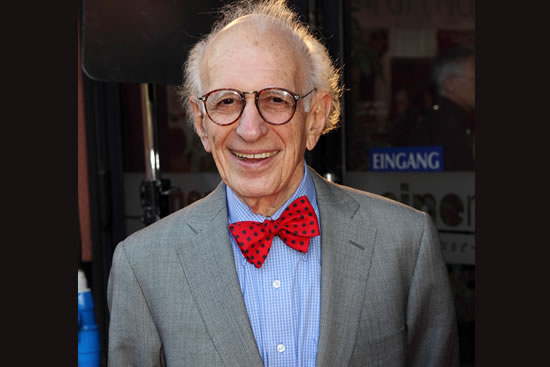 Dr. Eric Kandel
At age eighty-eight, Nobel laureate neuroscientist Eric Kandel—the only American psychiatrist ever to win the prize—is not slowing down; in fact, he's speeding up. His recent research in collaboration with Professor Gerard Karsenty at Columbia University has demonstrated that a bone-derived hormone, osteocalcin, which is generated by walking, reverses age-related memory decline in mice models, so he has altered his exercise routine. "I'm walking more, swimming less," explains Kandel from his summer home in Cape Cod. Like so much in Kandel's story, this small change reflects the positive, intellectually-curious and empirically-driven approach to life that has made him such a success story. And a similar attitude explains his ongoing work as a scientific researcher as he approaches his tenth decade. "I'm not doing it out of idealism," he says. "I do it because it's the thing I most enjoy."
Kandel did not start off as an aspiring scientist. "I didn't know I wanted to be a scientist until I had a chance to work in a lab," he recalls. He was born to a shopkeeper in Vienna in 1929 and immigrated to the United States a decade later, escaping Nazi anti-Semitism and persecution following the Anschluss. He initially lived with an uncle in Brooklyn; his own parents arrived in New York six months later. What followed was a classical Jewish education at the highly-regarded Yeshiva of Flatbush and then high school at Erasmus Hall, from which he graduated in 1944. At Erasmus Hall, he was encouraged by his history teacher, John Campagna, to apply to Harvard College—and when his cash-strapped parents proved reluctant to pay the $15 fee, Campagna gave him the money out of his own pocket (more than $200 in today's money). Kandel was admitted to Harvard on a scholarship and majored in European history and literature. His primary intellectual interest was explaining how the culture of "Goethe and Mozart and Haydn" had produced National Socialism. He received honors for his thesis on three German writers—Carl Zuckmayer, Hans Carossa, and Ernst Junger—who responded to Nazism in strikingly different ways.
"One thing that's different about me," says Kandel, comparing himself to many of his neuroscience colleagues, "is that I do a fair amount of writing. This comes from my experience as a history and literature major and it has helped me a great deal later in life. I've been able to write books for a general audience." He suspects many of his colleagues regret not having acquired a similar skillset. Kandel's latest books, The Disordered Mind: What Unusual Brains Tell Us About Ourselves, was published this August.
His interest in psychiatry arose under the influence of Austrian-born psychoanalyst Ernst Kris, the father of his friend Anna. Soon he was reading Freud. Kandel was also applying to medical school at New York University, where he studied from 1952–56. This led to an elective at Columbia University with neurophysiologist Harry Grundfest and ultimately research at the National Institutes of Health—the only alternative to direct military service. After a residency in psychiatry at Harvard, he returned to New York University as a faculty member to study memory storage and neurotransmission in Aplysia californica, better known as sea slugs. He later moved to Columbia, where he is now the Director of the Kavli Institute for Brain Science and Co-Director of the Mortimer B. Zuckerman Mind Brain Behavior Institute. Oh, and he picked up that Nobel Prize along the way (in Physiology & Medicine, shared in 2000 with Arvid Carlsson and Paul Greengard). His wife, Denise, an addiction scholar, also serves on the Columbia faculty—and the pair have conducted research together. The couple has two adult children.
"My advice to parents is to be involved with your children," he urges. "Encourage them to engage.... The most obvious way that children learn is to see what their parents do."
He also has advice for prospective researchers. "Stay focused on the scientific problems themselves, not just the methodology," he explains. "There are lots of problems out there to be solved." Within neuroscience, he notes the rise of many illnesses of old age, such as Alzheimer's disease, virtually unknown in 1900, "when the average life expectancy was fifty." He encourages future investigators to explore this "whole range of diseases that we didn't see before, many involving memory storage." Outside medicine, he points out the importance of addressing the chronic scourges of poverty and discrimination.
"How medicine is taught has changed a lot over the past fifteen years," says Kandel. He notes the ongoing debate between those who favor more basic science in the medical school curriculum and those who favor a more clinical approach. "There's less basic science now than there used to be," laments Kandel. But he describes the conflict as "an honest debate."
At his core, Kandel remains the inveterate optimist. "I am a prototypical American success story," he observes. "I have had a privileged life because I have lived in a decent and civilized society, and I am extremely grateful for my opportunities." He noted that never once in his American academic career did he knowingly encounter anti-Semitism. "And it's a privilege to be at Columbia," he adds, describing the institution as highly supportive of brain science.
At Columbia, he is currently engaged in multiple initiatives to involve public school students from Upper Manhattan in the basic sciences. Looking back on his own early opportunity to work in a lab, he says of these prospective researchers, "Many have no sense of the enjoyment of being in an environment that is intellectually curious," an opportunity that will be afforded them at Columbia's new Manhattanville campus. The hope is that some of these talented youths will follow in Kandel's footsteps—big shoes to fill—especially with his own feet are still moving rather quickly. #