Linda Sirow: Encaustic Painter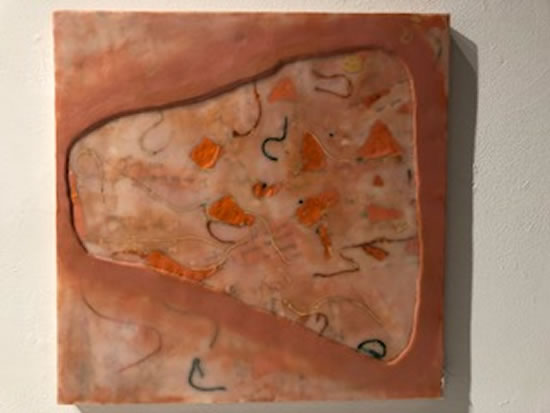 The Bowery Gallery's 27th Annual Juried Show, curated by art critic Karen Wilkin, featured a range of mediums, styles, and subjects. While eschewing politics and images of ice and snow, the 2-dimensional works did include several lush green landscapes, perfect fare for a summer exhibit. A standout in the show was a lovely encaustic painting, "Opening II," by Linda Sirow. Luminous, delicate, and mysterious, the work illustrates the magical qualities possible with the encaustic medium. A labor-intensive technique mastered by the ancient Egyptians in the first century A.D. and newly popular toward the end of the twentieth century, encaustic painting involves applying layers of hot wax mixed with pigment (color) on a very hard, porous surface, generally wood. The pigment can be a powder, oil paint, or blocks of pigmented wax. The wax, often a mixture of bee's wax and Damar varnish, is melted on a hot metal plate with a burner beneath it. The hot wax is applied to the surface with a natural bristle brush but, because the material cools rapidly, the application process is repeated in layers, perhaps a hundred times, to get desired results. The wax can be continually scraped down to achieve a flat surface, roughed up for texture, and inlaid, or collaged, with all sorts of materials and objects. As the wax builds up, the layers underneath remain visible in varying degrees, allowing the artist to create depth and multiple perceptions. Special tools, such as heat guns, small torches, and irons are used to fuse the layers.
Sirow's painting, "Opening II," done on an 18 inch square wooden board, features a large, irregularly shaped mound whose outline is created by the many layers of wax built up along its perimeter. Soft hues of orange, peach, and ivory seen through the many layers define the form. Stringlike lines and squiggles in gold, black, orange, and red float in and out, creating movement and fun. Small bits of foil embedded in the wax and painted bright orange, glitter and shine as they catch the light and the viewer's eye. The warm colors, layered mysteries, and bright, animated spirit make for a very lyrical work.
Sirow has been an art teacher at The Dalton School in Manhattan for over 20 years, where she "teaches all sorts of media," including printmaking, ceramics with introduction to the potter's wheel, and painting. "I like to introduce new possibilities to the students," she explains. Encaustic art is not taught because it is considered too dangerous for middle school learners. She especially likes working with clay and thinks, "It's a wonderful material for students because it's so easy to manipulate and forces the use and practice of fine motor and creative skills while also providing a tactile experience." Sirow believes children, especially city children, growing up in a world of technology, often miss these important hands-on experiences. She sees the computer as an additional tool in education and reports it is used in combination with traditional practices in many art-related classes.
In her personal practice, besides encaustic painting, Sirow, an abstractionist, does oil painting and monotype print-making. In most of her work, she uses variations of similar colors in a piece, focuses on shapes and multiples of shapes, works in series, and prefers a square format. Her work can be seen on lindasirow.com. #