The School Art League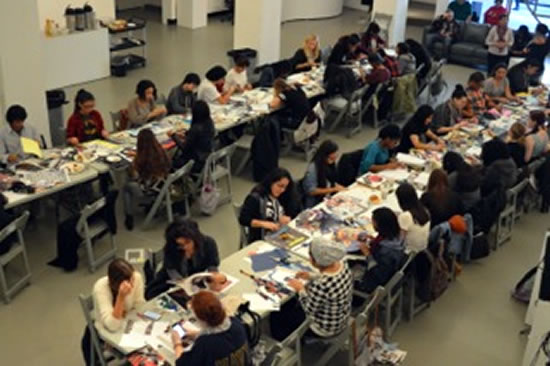 New York City is often cited as the art capital of the world. Our public high schools can take some credit for that designation because for the past 109 years their talented student artists have been recognized for their artistic achievements by The School Art League (SAL).
Established in 1909 and continuing up to the present, The School Art League has collaborated with the NYC Department of Education (NYCDoE) to honor public high school students for excellence in visual arts. SAL's mission to support art education, career development, and provide recognition and encouragement for student artists is achieved through scholarships, awards, and programs of artistic enrichment.
Each spring The School Art League holds its annual Awards Ceremony at the Metropolitan Museum of Art where talented art students from NYC public high schools are presented with beautiful, historic bronze medals for artistic achievement. These medals are treasured by their recipients as evidenced by requests received each year for replacement medals, dating back as far as the 1930s. Scholarships and cash awards are also provided for students whose portfolios have been selected for juried awards. Additionally, each year a prominent artist or art educator is honored.
This year the Charles Marshall Robertson Memorial Award was presented to Chancellor Carmen Fariña in recognition of her outstanding leadership of arts education during her stellar career as an educator, school and district leader, and most recently, Chancellor of the NYC Public Schools.
The NYCDoE's Office of Arts and Special Projects disseminates information about SAL's programs and awards to high school principals and art teachers who encourage their students' participation. Information about all School Art League programs and projects can be found at www.schoolartleague.org.
In 2018, 208 students received medals for outstanding artistic achievement: The Haney Medal for 9th and 10th graders who have demonstrated the most growth in the field of art; and for 12th graders, The St. Gaudens Medal for excellence in drawing, and The Alexander Medal for completing a major art program with the greatest distinction.
SAL also provides the Saturday Art Career Workshops for sophomores and juniors during the school year through the generosity of The One Club for Creativity. At these free Saturday workshops professional designers and artists share their expertise with our NYC high school art students. Students create hands-on projects and have their portfolios reviewed by major art school admissions counselors.
SAL also offers the Museum Experience Program (MEP), a collaboration with the NYCDoE and NYC's cultural institutions. Under the guidance of museum staff and professional artists, selected art students identify social justice issues in their communities and develop plans to use their artistic skills to influence positive change. Through interaction with museum professionals and art making, students learn how art can promote active engagement in their own communities and how cultural institutions can support their personal growth.
Past museum partners include the Society of Illustrators, the Rubin Museum, the Cooper Hewitt Smithsonian Design Museum, the Museum of Art and Design, the Museum of the City of New York, the International Center of Photography, The Morgan Library, the New-York Historical Society, and the Guggenheim. MEP is made possible with support from the Citizens Committee for New York City.
Most important of all, SAL is a 501(c)(3) not-for-profit organization that is run completely by our Trustees, all of whom are volunteers!
The School Art League is proud to be a Partner Project of the Fund for the City of New York. To learn more about SAL, please visit our website: www.schoolartleague.org or write us at schoolartleague@gmail.com. #
Carol Sterling is a Trustee of the School Art League.