WE REMEMBER


Arlette Michaelis: A Dear Friend & Accomplished Educator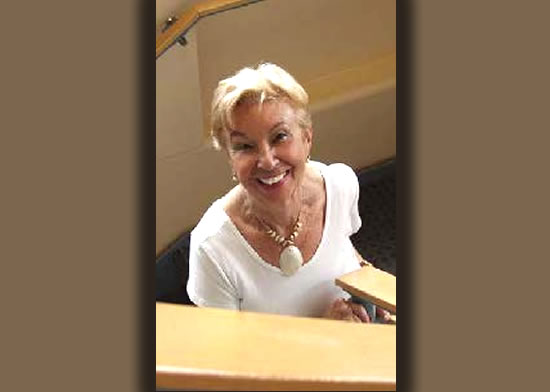 Photo Provided by Stockton University
Life can throw you curve balls or it can deliver treasures. Arlette Michaelis was one of my life's treasures. She was a complex woman with a rich history of life challenges and accomplishments. Arlette was a lifelong learner. I first met her in 1984 while we were enrolled in graduate courses at Glassboro College, now Rowan University. Arlette at sixty years of age was registered for computer courses long before most teachers had begun to recognize the importance in gaining this knowledge and skill base.
For four semesters, twice weekly, we traveled by car together to and from Rowan. It was during these road trips that our friendship was forged and my life was enriched. In multiple conversations, Arlette shared the story of her youth time experiences growing up in German occupied Brussels, Belgium during World War II. Those stories were eventually recorded in her authored book, Beyond the Ouija Board, a 2005 project of the Holocaust Center of Stockton University. Following the book's publication, survivors whom she and her family had rescued came forward to verify the truth of her testimony. As a result, Arlette was inducted into the Yad Vashem by the Israeli consulate with the award "Righteous Among The Nations", an award reserved for "gentiles who selflessly aided Jews in need".
Arlette was a teacher's teacher. She taught elementary school for over 20 years and following her retirement was engaged by numerous school districts and synagogues to share her life story. She remained a popular speaker, most especially appreciated by holocaust survivors and school aged children who enjoyed her tales of anti-authoritarian rebellion against the German soldiers, often conducted at great personal risk. Those numerous tales are recorded in her book.
Arlette was beloved by her students, who nicknamed her "Mrs. Mic". She enhanced and enriched the prescribed curriculum with personal anecdotes, among other topics. Up until the weeks prior to her passing in May of 2018, she stayed in touch with many former students through e-mail, phone calls, and personal visits. As one of her former students said at her retirement celebration in 1992, "We loved you because you loved us and opened our minds and hearts to learning."
Always style conscious, Arlette made a stunning appearance, donning exquisitely tailored suits that she herself had made. Well into her nineties, Arlette maintained her large home and flower garden. Her flair for home decorating endured throughout the decades. It was at her home, which was filled with European antiques, where she regularly enjoyed entertaining both international and local guests. She feverishly followed political news and stimulated political discussions. Arlette became greatly dismayed at the perils created by our country's current governmental leadership.
In spite of suffering from rheumatoid arthritis which crippled her hands in the eighth decade of her life, Arlette enrolled in formal art classes. She became quite proficient in painting with watercolors. I am most fortunate that she gifted me one of her pieces. I will treasure that gift, as I will always treasure the memory of my dear friend.#
Arlette deMonceau Michaelis received a Righteous Among the Nations Award at Richard Stockton College in 2011.