George J. Hagerty: A Profile of Service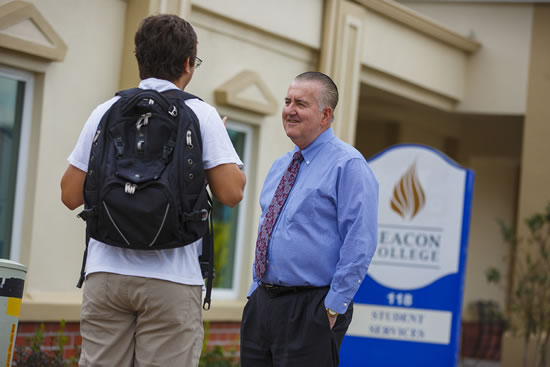 Dr. George Hagerty chats with Beacon College student Nevin Yadav
In 2008, George J. Hagerty reached a crossroads.
For 14 years, prosperity smiled on the small New England liberal arts college he piloted. Enrollment mushroomed. The campus grew. Satellite graduate and professional centers opened around New Hampshire. The school added new collegiate sports (at a time when budget cuts kneecapped other institutions). And most impressive: the school graduated from the rural, insular Franklin Pierce College it was when he accepted the presidency in 1995 to the international Franklin Pierce University with campuses in Ukraine and Austria.
Yet, after all his success, Hagerty decided to call it a career. He retired as Franklin Pierce president in June 2009.
"I have one more career left in me," he told the New Hampshire Union Leader at the time.
That one more morphed into three second acts in Hagerty's life of service. Fortunately for tiny Beacon College, he saved the best for last.
He put in two years as provost and university professor at Hellenic American University in Athens, Greece and a year as president of University Advisors International, Inc. Then Beacon came calling. Soon, Hagerty brought his growth mindset and global vision to the Leesburg, Fla. liberal arts school that primarily serves students with ADHD and learning disabilities.
An apropos coda for a man whose entire professional life was carved out while navigating around his own battle with disability.
Vision thief
Born in Quincy, Mass. in 1952, Hagerty in his late teen years received a devastating diagnosis. A rare retinal condition progressively would steal his sight and torpedo his baseball prospects.
A wicked curve ball, for sure. Yet, Hagerty rallied and stepped up to the plate.
To compensate, he employed a strategy that later became a parable for his work at Beacon College: devise workarounds to minimize his disability.
Relying on that tactic, Hagerty graduated with honors in 1975 from Stonehill College in Massachusetts with a bachelor's degree in political science/international affairs. For good measure, he added master's and doctoral degrees in education from Harvard University.
He parlayed his keen interest in special education into a post-doctoral fellowship at the U.S. Department of Health, Education and Welfare. Hagerty made such an impression that he was named to a succession of posts in the U.S. Department of Education. Ultimately, he rose to chief of compliance and enforcement in the Office of Special Education Programs — a harbinger of a unique mission to come.
Beacon of light
Five years ago, Beacon College's Board of Trustees needed a leader to drag the distinctive school back from the brink.
Enrollment had stalled. Staff had abandoned ship. Money woes prevailed.
That was wrapped in a bow of parochial visioning regarding the school's potential.
When the dust settled, Hagerty was named Beacon's third president. He brought his suitcases and a grand vision.
He envisioned growing a college that would capture the flag as the leading institution for students who learn differently. One that would demolish the default managed expectations that society tattoos like a scarlet letter on students who learn differently. As if their "island of challenge" — as Hagerty calls it — writes their entire life's script.
He envisioned a college that would launch into the world graduates not only equipped with a sheepskin and marketable skills but inculcated with incontrovertible principles to steer their journeys toward "a life abundant."
Ever the globalist, Hagerty too envisioned a vibrant outreaching college whose singular mission knew no borders.
To complete that punch list, the school first would need to grow.
After 24 years, enrollment stalled at 187 students. To bolster recruitment, Hagerty directed the college to beef up its slim pickings of majors. Today, students major in human services, humanities, business management, anthrozoology, psychology, studio arts, computer information systems, and digital media tracks.
In 2014, he spurred implementation of a new four-year career development curriculum to better equip graduates to compete in the global marketplace. He oversaw the creation of new Bachelor of Science degrees in computer information systems, business management and anthrozoology. Beacon now is one of two U.S. colleges or universities that offers anthrozoology as an undergraduate major.
Proof lay in the metrics: from 2013 to 2016, enrollment soared by 70 percent. Today, 400 students call Beacon home. Yet, the school's education outcomes eclipse even those beefier numbers. Under Hagerty, Beacon boasts a 70 percent four-year graduation rate — which more than doubles outcomes for this population at mainstream schools.
With a newly built Resnick Alpern Plung Residence dormitory, and a second dorm in the works, Hagerty plans to open Beacon's successful learning model to more students.
Think globally, act locally
By 2015, Hagerty decided again to scratch his global itch.
In conjunction with the King Salman Center Disability Research in Riyadh, Saudi Arabia, Beacon College launched the Compass Program. Through this pioneering five-week initiative, Saudi students learned on Beacon's campus about diverse learning styles and strategies to enhance academic success.
"We've always recognized that the issue of students who learn differently is a matter without borders and that we've been blessed here in the United States to at least have 40 years to set a foundation for understanding and serving these students and their needs," Hagerty said last year. He alluded to the passage of the Education for All Handicapped Children Act in 1975 while cementing a collaboration with Sharjah City for Humanitarian Services in the United Arab Emirates to train Sharjah educators to help students who learn differently succeed.
Hagerty's global advocacy earned him a seat at the table at the inaugural Harkin International Disability Employment Summit, led by former U.S. Sen. Tom Harkin, the architect of the Americans with Disabilities Act.
Harkin later delivered Beacon's 2017 commencement address, noting in an interview with the Daily Commercial, "I was intrigued by this small school that seemed to be doing so much for people with disabilities."
Tacking global education onto that inspirational ethic, Beacon last fall launched "Beacon in Tuscany." As Hagerty saw it, it was imperative that Beacon students hone cross-cultural skills through experiential learning opportunities abroad to stake their success in the global marketplace.
Recently, the Open Doors Report on International Educational Exchange found students with disabilities accounted for only 5.3 percent of students abroad in the 2014–15 school year. Of that sliver, 42.1 percent had learning disabilities.
The program — believed to be the first semester-long study-abroad program to educate students who learn differently — grants roughly 25 Beacon students an opportunity to study art, business, literature, and psychology, and other subjects in Prato, Italy.
And the award goes to …
Over the years, Hagerty has stuffed his trophy shelf.
His honors include The National Leadership Award from the National Council on Disabilities, the Fitzwater Medal for Leadership in Public Communication, and a Lifetime Achievement Award from Education Update, New York City Schools, and the NYC Commission on Persons with Disabilities.
However, for Hagerty, individual achievements pale to the recognition the nonprofit college founded by parents in 1989 now receives on the national stage.
In 2016, College Magazine ranked Beacon College America's second-best college for students with learning disabilities. That same year, BestColleges.com ranked the school among the Top 10 in its ranking of "Best College or University in Florida."
Currently, Beacon College holds the top spot on BestValueSchools.com's 2017–18 list of "Best colleges for students with disabilities." Meanwhile, global-education magazine The Knowledge Review named Beacon College among its "50 Admirable Education Institutions 2017."
Though in his mid-60s, Hagerty isn't quite ready to retire, again. There are miles to go before his grand plan comes to fruition.
Helen Keller wisely observed, "The most pathetic person in the world is someone who has sight but no vision."
Throughout his career, and with his masterstroke at Beacon College, Hagerty proves true the inverse: the most accomplished person can be someone with diminished sight but blessed with limitless vision. #
Darryl Owens is the Director of Communications at Beacon College.