Touro College's Division of Graduate Studies Commencement 2018
Israeli Tech Guru Hillel Fuld tells Graduates "The Core of Business is Passion and Giving"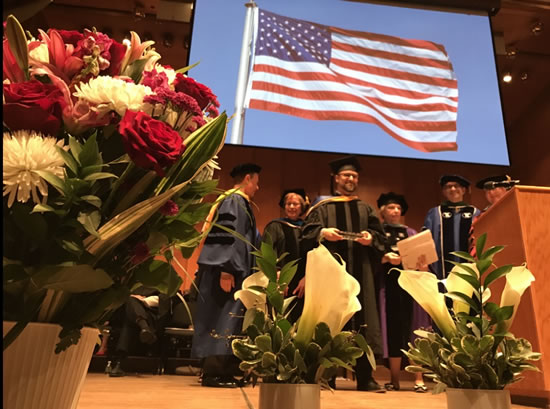 David Geffen Hall at Lincoln Center in New York City was filled with thousands of exuberant graduate students and their families and friends recently to celebrate the 37th commencement of the Touro College Division of Graduate Studies. Diplomas were conferred on 1,425 members of the Class of 2018, from six Touro graduate schools: Business, Education, Health Sciences, Jewish Studies, Technology, and Social Work by President Alan Kadish, M.D., following a personal and spirited call to action by keynote speaker Hillel Fuld, an entrepreneur, journalist and blogger who has been named Israel's top marketer and collaborates with many global brands on marketing including Google, Oracle, and Microsoft.
"Today, given the tools and resources you have at your fingertips and the knowledge you have acquired, the only thing preventing you from accomplishing the impossible is you," he told the assemblage.
In his remarks, during which he traced in detail his philosophy and path to achieving his goals, Fuld stressed the core of business is "passion and giving." He said he spent his years focusing on his passion for technology and writing, while giving free help to others and ignoring advice to focus more on monetizing his talents.
"Any small piece of success that I have had traces … back to the day when I started writing my very unstructured thoughts about the world of technology. If one of the companies I now work with sold for billions tomorrow, I would change nothing. I would continue doing what I am doing and what I have always done, followed my passion and given as much as I possibly can to all those around me who can benefit from what I have to offer. I suggest you do the same and … right now."
Fuld's remarks followed those of Touro College President Alan Kadish, M.D., who encouraged the graduates to help make the world more enlightened and compassionate; to live for purposes higher than one's self; and to teach others. "It is time for you to take your spots in that broader scheme and determine the parts you'll play in enriching our society," the President said.
"I implore you to take your knowledge and spend your lives teaching others. The world in 2018 is complicated and stressful but I am optimistic we will overcome what divides us. Keep being dedicated, teach others, and do us proud," said Dr. Kadish. "I have no doubts that, with the education you've received, yours will be robust and beautiful contributions."
The ceremonies were imbued with an international presence, reflecting Touro's diversity. The audience sang the national anthems of the United States and Israel — Hatikvah — and heard moving speeches from six student speakers, each representing one of the graduate schools. The speakers hailed from Greece, Argentina, the Dominican Republic, El Salvador and Indonesia.
Jessica Punzal, who earned her M.S. in Industrial Organization-Psychology from the School of Health Sciences, thanked her father for taking a 22-hour flight from Indonesia for graduation, and also her mentors, including her professors. "What's different about Touro is the tremendous amount of support that I have received. Touro has such brilliant, brilliant mentors."
Mailen Núñez, M.S. in Information Systems, shared how she came from the Dominican Republic at age 10, speaking only Spanish. Her mother worked as a housekeeper and when her father, a factory operator, was injured on the job, her mother took on a second job. She suffered through a bad marriage but persevered, obtained a bachelor's degree and applied to Touro. "Touro prepared me to be a successful project manager in the IT field and gave me the tools needed to fine-tune my management and technology skills. [Touro] taught me to value and appreciate life despite the obstacles we face and to respect and love each other regardless of our cultural and religious differences."
When he came to the United States from his native El Salvador four years ago, Miguel Monterrosa was already working as an engineer but decided he would have a better future in the U.S. He learned English on his own, landed various jobs, then came to Touro to earn his M.S. in Mathematics Education and become a bilingual math teacher. "At Touro I learned so much," Monterrosa said. "I encourage the new generations to always do their best and never give up. Life is not always easy. At the end is your attitude and effort that is going to make the difference." #
Touro College has 30 campuses and locations in New York, California, Nevada, Berlin, Jerusalem, and Moscow. New York Medical College; Touro University California and Touro University Nevada; Touro University Worldwide and its Touro College Los Angeles division; as well as Hebrew Theological College in Skokie, Ill. are separately accredited institutions within the Touro College and University System. For further information on Touro College, please go to www.touro.edu/news.