Didi's Toy Box: Making Playtime Educational and Education Playful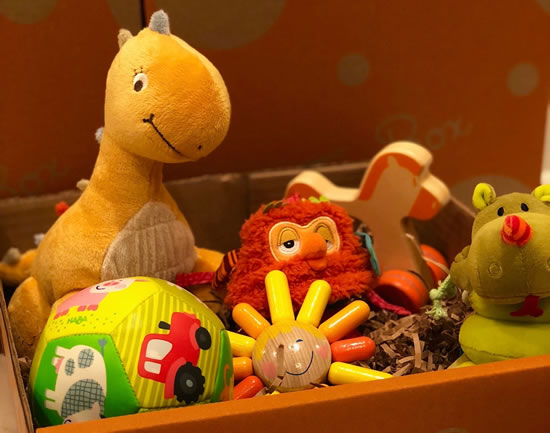 Let the Fun Begin! The tag line for Diana Rudman's exciting new company Didi's Toy Box belies this on-line subscription service's serious educational mission. Didi's Toy Box brings premiere luxury and heirloom toys for toddlers right to a client's home, which is a good thing considering the recent fate of Toys "R" Us and other traditional brick-and-mortar stores. The curated selection arrives in a beautiful box that harkens back to the days of exquisite handmade European toys—the type of gifts that some may remember receiving from parents who shopped at places like FAO Schwartz in Manhattan or Pain d'Epices in Paris—not because they were exclusive but because the toys were well-made and pedagogically sound. Indeed the selections that Rudman curates with such discernment come from well-regarded companies such as Haba, Kaloo, Sevi, Trudi, Plan Toys, and Hape. Made to last a lifetime, the toys are perfect for families to pass along from one generation to the next, emphasizing as they do the importance of durability and tradition, regardless of price points.
Rudman isn't just a renowned toy expert, she's also an early child development influencer who has deep concerns about how we are bringing up our children in America: "There's a time and a place for everything," says Rudman: "—including fooling around and being silly. But playtime should involve both children and their parents together. And they should play with toys that stimulate the imagination, where they are making creative links—this stimulates a child's motor development and in the end it's also the most satisfying." Not surprisingly Rudman believes that we should be circumspect about giving children electronic games too early on: "Everybody will get online eventually. But when children are still young—toddler age—their brains develop the quickest and they learn the most when they engage in free play and can move around and build things from scratch in good old-fashioned three dimensions." Furthermore as the child progresses age-wise and educationally, the toys should change as well to suit their evolving needs: "I space the deliveries out regularly and make sure that they correspond to developmental, intellectual, and emotional changes that every baby and child undergoes." Rudman says. When looking some of the toys that recently arrived in some of Didi's toy boxes—a wooden Pinocchio doll, a leather mini soccer ball and an old-fashioned fuzzy teddy bear — one couldn't help but be struck by how beautiful the toys were. They also felt lovely to the touch, so that they stimulate children's tactile sense and memory as well.
The European-born Rudman established her first unique store in 2002 on Madison Avenue and then quickly expanded to other sites such as Bedford, New York. Her stores—and her cutting-edge approach to choosing pedagogically and developmentally appropriate toys—have been featured in leading publications such as The New York Times, Parents, Time Out New York Kids and The New York Post.
Having raised two children of her own, Diana knows how difficult it can be to discover high-quality toys that both entertain and educate: "Our objective is to create a truly unique experience for all and inspire children's imagination and creativity. Kids need our love, nurturing, and encouragement much more than they need the latest in electronic distractions. With an endless supply of product choices, little guidance on developmental toy selection and even less time for toy shopping, many parents feel overwhelmed selecting age-appropriate toys." Rudman's attitude is fully in line with what Montessori and other play-centered educational theories also advocate. An article in The New York Times a few years back pointed out the fact that many top Silicon Valley executives sent their children to the local Waldorf School—a place where electronic toys for example are strictly verboten in early years. To my mind, that's a pretty good indication that Rudman is on the right track. #
Christopher Atamian is the Chief Marketing Officer of Didis Toy Box and a graduate of Harvard College.