Ann Tisch's Student Leadership Network Honors Three Outstanding Leaders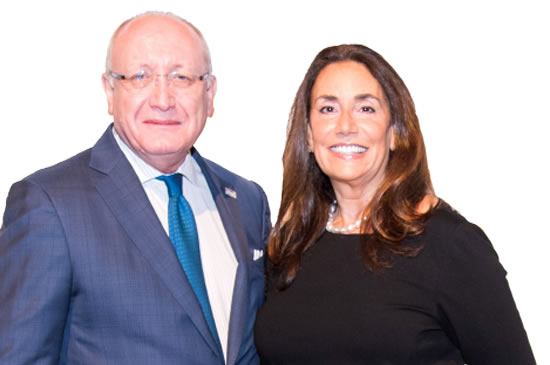 2018 Honorees, Valerie Radwaner and Bruce Mosler
Student Leadership Network, formerly known at the Young Women's Leadership Network, celebrated its annual (Em)Power Breakfast at Cipriani this fall. This year celebrated 22 years since founders Ann and Andrew Tisch opened their first school, the Young Women's Leadership School (TYWLS) in East Harlem. Upon opening the first all-girls public school in the United States in 30 years, the Tisch's started a revolution for girls and education in New York City and beyond. Over two decades later, the newly renamed organization is as vibrant and important as ever: there are 2,500 students at five TYWLS New York City district public schools and another 6,500 students at affiliates around the country. Nearly 100% of graduates are accepted to college and able to benefit from the nearly $123 million in financial aid that TYWLS students have received since 2001.
This year, three outstanding models of leadership were honored: actress Tracee Ellis Ross, attorney Valerie Radwaner, and businessman Bruce Mosler. Ms. Ross was the first to be honored, continuing an (Em)Power Breakfast tradition of honoring stars from the ABC comedy series "Black-ish" (Both "Black-ish" creator Kenya Barris and young star Yara Shahidi had been previously honored by the organization). Ross is a graduate of Brown University and one of Hollywood's most prominent actresses. She has received numerous awards including a Golden Globe and an NAACP Image Award for three years in a row. She uses her platform to bring awareness to many important issues including inclusivity and equity and has been at the forefront of the Me Too movement in recent months.
Following in a relatively new format for the breakfast, Ross took part in Q&A with a student, in this particular instance over Skype. Ross was asked a number of great questions including one that asked what has inspired her activism. "What's happening in our world is encouraging me to stretch out of my comfort zone and to use my voice as a platform in ways that I think in the past might have frightened me. That fear is outweighed by my desire to be of service and help encourage change," she said. She also gave credit to her mother (the legendary Diana Ross) for always being a great inspiration to her.
The second award was given to Bruce Mosler, Chairman of Global Brokerage at Cushman and Wakefield. In his prominent position, he advises major tenants and investors on strategic real estate matters, managing key client relationships on behalf of the firm globally. Recognized as the "Man We Love", Mosler expressed how important it is for women to be supported in education and in the workplace. "There are more women entering the STEM arena than there ever has been and I think it's a vital part of pushing this nation forward," he said.
The final recognition went to Valerie Radwaner. Radwaner is the Deputy Chair of Paul, Weiss and a member of the firm's Management Committee. In her position, she works to develop, oversee, and implement the firm's strategic priorities. She is a member of the Global Advisory Board of Women in Law Empowerment Forum and also sits on the Thomson Reuters Women's Transformative Leadership Advisory Board. Radwaner offered some excellent advice to the young women in attendance. "Use your voice! Make sure that your voice is heard," she said. "Treat all people with respect. She also echoed the sentiment made famous by Michelle Obama: when they go low, we go high. And like Tracee Ellis Ross, Radwaner also counted her mother as a huge influence in her life.
In conclusion, this year's (Em)Power Breakfast was as inspiring as ever. #