Town Hall Honors Laurie Anderson, Bob Hurwitz, and Charles Hull at Its 97th Gala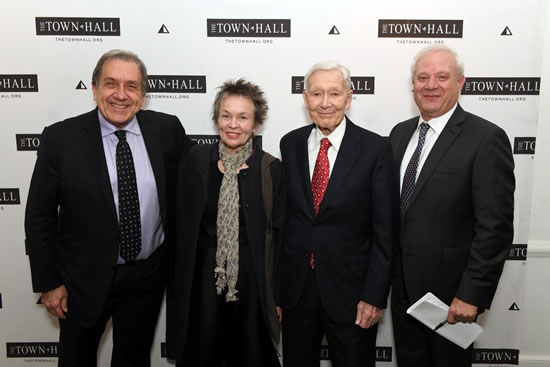 (L-R) Robert Hurwitz, Laurie Anderson, Charles Hull, Tom Wirtshafter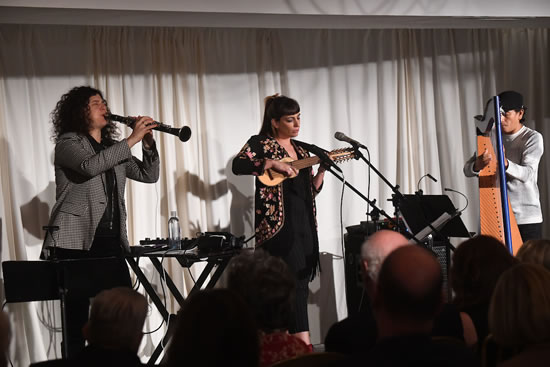 Clarinetist Anat Cohen and vocalist Sofia Rei & Harpist Edmar Castañeda
The Town Hall celebrated its 97th Gala Celebration recently at the Princeton Club in New York City. The momentous occasion honored three incredible artistic pioneers with The Town Hall Friend of the Arts Award: Multimedia Performance Artist Laurie Anderson, TheaterWorksUSA Co-Founder Charles Hull, and former Nonesuch Records President Robert Hurwitz.
The evening began with an exceptional performance featuring a virtuosic trio consisting of Israeli clarinetist Anat Cohen, Argentinean vocalist Sofia Rei, and Colombian harpist Edmar Castañeda. Each respected musicians in their own right, together the three of them brought the audience to their feet with stirring renditions of songs that originated in Latin America by composers such as Violeta Parra, Cartola, and Astor Piazzolla, among others. All in attendance were stunned to learn that this was the trio's first performance together.
The award ceremony portion commenced across the hall in the dining room. Before the award presentations got underway, the Town Hall President Tom Wirtshafter said a few words. He thanked Town Hall's many donors and supporters and quickly introduced President Emeritus Marvin Leffler to the podium. He remarked on how this year celebrates Leffler's 40th anniversary of service to Town Hall resulting in 10,000 days of work at the organization. Leffler came to the microphone and brought the attendees to laughter multiple times with several witty jokes. He spoke about the exciting future in store at the organization and about the importance of supporting it. "I am very excited about what lies ahead in 2021 when we celebrate our 100th anniversary! Our programming grows more exciting each day," he said.
The first award was presented to Charles Hull. Hull founded TheaterWorksUSA with the late Jay Harnick and Bob Adams in 1961. Under his 39-year tenure, TheaterWorksUSA grew to become America's largest and foremost Equity theatre for young audiences. Upon receiving the award, Hull expressed his astonishment at having been considered. "I have roamed the halls of Town Hall for about half a century and looking at the pictures of all the greats on the walls, the idea of my picture joining them is just overwhelming."
The second award of the evening was presented to NoneSuch Records President Emeritus Robert Hurwitz. Robert Hurwitz was at the helm of NoneSuch for 32 years. To this day, NoneSuch Records is one of the most diverse and influential record labels in the world boasting a roster of incredible creative talents including Bill Frisell, Steve Reich, Randy Newman, Pat Metheny, Lake Street Dive and co-honoree Laurie Anderson. Because of their close working relationship over the years, Anderson gave an introduction to Hurwitz. She praised him for all the work he has done for music and spoke about their collaborations over the years. In his acceptance speech, Hurwitz talked about his affection for Town Hall and how his first concert there, a John Coltrane tribute, showed him the beauty of New York.
The final award was then presented to Laurie Anderson. Anderson has been active on the arts scene since the early 1970s. She is a true renaissance woman; she is a visual artist, poet, composer, photographer, filmmaker, electronics whiz, vocalist, and multi-instrumentalist. She has performed at Town Hall for over four decades and has even released a recording recorded live there titled Live in New York. Robert Hurwitz introduced Anderson this time around and he profiled her long and diverse career. For her acceptance speech, in signature Laurie Anderson fashion, she sang to the audience using a "pillow speaker" in her mouth. The resulting sound was something like a violin.
The joyous evening was filled with warmth and appreciation for the venerable institution that is Town Hall. The new season of programming boasts an incredible lineup including Audra McDonald, Esperanza Spalding, Abbi Jacobson, and others. #