Assemblywoman Rebecca Seawright Celebrates Sgt. York's Legacy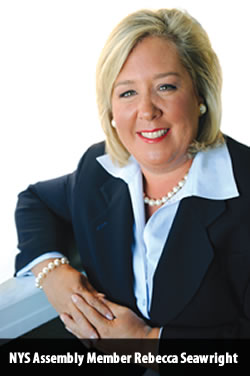 Recently, East Side World War I Centennial Commemoration Committee held an exciting evening of music, film, and celebration at the Lycée Français de New York to remember Sergeant Alvin York. Sergeant Alvin York is one of the most decorated veterans of the First World War and York Avenue, which runs on Manhattan's East Side, is named after him. The evening featured a number of standout moments including a student musical performance led by Jacques LeTalon, music educator at the Lycée and a warm welcome delivered by Gale Brewer, Manhattan Borough President.
Assemblywoman Rebecca Seawright, co-chair of ESWWICC, delivered some warm remarks as well. "We've always known York Avenue was special but wait until you see this movie tonight," she said, "for those of you who don't already know about Sergeant York, you'll be even prouder to be associated with his name!" Assemblywoman Seawright followed her remarks by presenting co-chair Howard Teich with a special medallion with the New York State seal on behalf of the New York State Assembly. Teich then gave some informative background on Sergeant York's accomplishments and told of how the East Side was involved in the First World War effort. He also recognized members of the committee and York Avenue business owners.
Harold Holzer took to the podium next to have a discussion with Retired Army Col. Gerald York, the late Alvin York's grandson. Holzer is a highly respected and distinguished Lincoln Scholar and the Director of the Roosevelt House Public Policy Institute at Hunter College. Holzer asked Col. York a number of interesting questions about his grandfather, the Alvin C. York Institute that his grandfather founded, and the 1941 film Sergeant York. One of the most interesting tidbits was in regard to education. York's grandson said, "Later in life, my grandfather was asked 'what do you want to be remembered for?' and he said, 'I want to be remembered for bringing education to Tennessee.'" After their dialogue concluded, the film Sergeant York, which stars Gary Cooper as the titular character,was screened for the audience. A national rallying cry, the movie was the highest grossing film in 1941. #