MOVIE REVIEW

Daniel Patrick Moynihan: A Unique Political Figure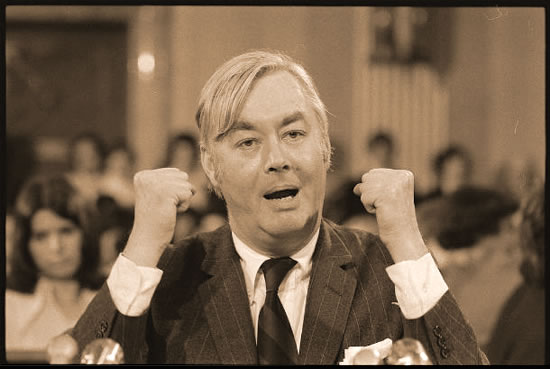 Daniel Patrick Moynihan
(Photo credit: Library of Congress)

Daniel Patrick Moynihan was a unique figure in contemporary American politics. His resume was probably more imposing than any US Senator within my lifetime. Among his many accomplishments: US Ambassador to India, UN Representative, US Senator representing NYS, professor at Harvard, and author of significant books (e.g., Beyond the Melting Pot).
The recent documentary Moynihan directed by Joe Dorman and played at the Film Forum provided an extremely sympathetic biographical portrait of this wide-ranging public intellectual and liberal politician, emphasizing the power of his ideas rather than exploring his familial life or constructing a vivid personal portrait.
We learned that Moynihan spent most of his formative years in various New York neighborhoods. Sometimes he had to endure economically hard times (he shined shoes as a boy), and Moynihan also worked for a short period in his mother's bar in Hells Kitchen. But he attended Tufts during WWII and received his BA and MA there, and ultimately his Ph.D. from Tufts Fletcher School of Diplomacy. And though Moynihan may have nurtured an identity that he was at home with guys who drank beer and worked on the docks, his speeches sounded Churchillian not folksy and he often dressed in Seville Row suits. He may have been deeply committed to helping the poor and the working class, but his personal style was patrician.
Still, this is a film about Moynihan the erudite, witty, and eloquent (he had a gift for the striking phrase) man of ideas who could be prescient about the decline of the Soviet Union, and his last political causes were such issues a strengthening Social Security and attacking government secrecy. His prime commitment was trying to figure out how to go beyond the groundbreaking civil rights legislation passed under Johnson that ended much of the brunt of legal racism, and how to strengthen the black family, which he saw as reaching a point of disintegration. He described, through pages of worrying charts and graphs, the emergence of a "tangle of pathology," including delinquency, joblessness, school failure, crime, and fatherlessness that were an integral part of underclass behavior.
This thesis was published during the Johnson years as The Moynihan Report (1965) and it instantly aroused controversy.
Some white liberal academics and black intellectuals viewed it as blaming the victim and attacked Moynihan's perspective. Some even saw Moynihan as promoting racist views. Moynihan felt blindsided by what he saw as underserved attacks that willfully misunderstood the complexity of an analysis that comprehended that the difficulties of the black family couldn't be reduced to economics. He asserted that families were entwined in a variety of systems — familial, cultural, and economic — that shaped their existence. Moynihan was of course not advocating that the family should reconstruct itself in a political vacuum, but that the federal government must adopt policies, especially in education and employment, "designed to have the effect, directly or indirectly, of enhancing the stability and resources of the Negro American family."
Moynihan always went his own way politically — he had a contrarian streak — so in 1969, a conservative president, Nixon, appointed him his urban affairs adviser. Moynihan then promoted the idea of a Family Assistance Plan over the opposition of many of the President's most conservative advisers. The Plan would deal with poverty by making all families with children eligible for a minimum stipend, and no longer would the absence of a father be a precondition for welfare. Essentially it was a guaranteed income for the unemployed and income supplements to the working poor. However, the plan died in the Senate, under both Republican and Democratic opposition. Liberal Democrats opposed it because the income was set too low, while Republicans viewed it as too generous.
Moynihan was not only a man of ideas, but also an effective Senator (1977–2001). In his first term he teamed with Jacob K. Javits to pass legislation guaranteeing $2 billion worth of New York City obligations at a time when the city faced bankruptcy. He also successfully pushed to shift highway financing toward mass transit — and get New York $5 billion in retroactive reimbursement for building the New York State Thruway before the federal government began the Interstate Highway System, though he was not someone who would be primarily remembered for the legislation that was passed under his name.
Moynihan was basically a New Deal liberal, whose politics defied categorization. He was opposed to the Vietnam War, but highly critical of the protestors. In fact, he only saw danger in the black and white radicalism of the '60s. He was also antipathetic to the Clintons' health care legislation, since he saw no crisis in that area. Still, his range of interests was wide, including creating public architecture symbolizing the "dignity, enterprise, vigor, and stability" of American government. I didn't always agree with Moynihan's politics, but if every Senator had even a portion of his panache, integrity, intellect, and profound commitment to the poor, the current state of our politics wouldn't be mired in the foul smelling muck we find it in. #
Dr. Leonard Quart is professor emeritus at the College of Staten Island.