GUEST EDITORIAL


The College of Staten Island Is Entering a New Era of Excellence, Creating the Opportunity to Ascend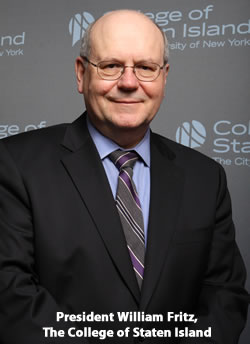 Over roughly the last five years, the College of Staten Island has experienced a transformation. It has not gone unnoticed — the College is now showing up on virtually all of the major rankings of America's Best Colleges, from Forbes' to U.S. News & World Report's to the Wall Street Journal's.
I'm excited to think of what lies ahead because we are clearly entering an era of excellence. Our new strategic plan, "Opportunity to Ascend," developed through a rigorous campus-wide process with inputs from all corners, set us on this path. It comprises six priorities that I reference here to illustrate how they are all a part of the College's new trajectory.
"Opportunity to Ascend" has a dual meaning. First, since our earliest days, our mission has been arrow-straight: to provide access to the highest quality education and the "Opportunity to Ascend." However, as an institution we also have that same opportunity: As a "Destination Campus" with a commitment to "Global Engagement" where students from all over the world will want to come and study and faculty will want to spend their careers.
We have a world-class faculty equal to those at a Top R1 Research University. But we are different. We value "Scholarship Driven Education," meaning that whenever you go into the lab of Dan McCloskey, one of the top 100 young scientists in the entire country as recognized by President Obama, you find undergraduate students helping out with the scholarship. That is something that does not occur at those R1 institutions.
One of our celebrated poets, Patricia Smith, represents the true depth of faculty excellence found at CSI. Patricia was named a 2018 Pulitzer Prize finalist for her latest collection of poetry, Incendiary Art: Poems. This honor followed a series of other prominent awards she received, including the NAACP Image Award for Outstanding Literary Work, the Los Angeles Times Book Prize for poetry, and the Kingsley Tufts Poetry Award. Additionally, Patricia's CSI colleague, Tyehimba Jess, who was the 2017 Pulitzer Prize winner for poetry for his book, Olio, was the recipient of a 2018 Guggenheim Fellowship. Both Patricia and Tyehimba were the main catalysts for The New York Times feature, "How CUNY Became Poetry U." Like Dan, both are involved in teaching undergraduates, and Tyehimba makes special requests to teach freshmen students.
We are a part of Staten Island, not apart from Staten Island through "Borough Stewardship." We are in a unique role to work with the public and private sectors on the island to provide opportunities to students to aid in workforce development, and to help with initiatives to improve "civic prosperity" (jobs plus quality of life). Consider our new Tech Incubator in St. George on the North Shore of Staten Island, which, in its first cohort, has taken in three businesses that want to be on the North Shore: One was founded by a student, one by an international team, and one by entrepreneurs in Manhattan.
Because of our commitment to "Student Success" our students go to the best med schools and law schools, serve in the most prestigious not-for-profits, and get the best jobs on Wall Street and elsewhere. In the past several years, we have ranked in the top 20 in the entire nation for taking students from the lowest two quintiles of wealth and moving them to the upper levels. Our alumni make in the top 15% of salaries as the graduates from any institution in the country. We quite literally make the American dream real for our students.
For example, History MA student Peter Scasny has been awarded a Fulbright to Italy, where he will be teaching English. At the annual American Marketing Association's Collegiate Case Competition, one of the premiere marketing competitions in the country, our Marketing team took second place among more than 100 teams across North America. They narrowly missed first place to the team from the University of Pennsylvania's Wharton School, one of the top business schools in the country.
And we do all this by providing access to all. We provide over $60M in access financial aid every year from Federal Pell, State Tap, Excelsior, and private sources, plus $15M in federally insured student loans as a direct lending institution. There is a difference between federal financial aid direct loans and what many call loans from private banks — that sometimes puts us at odd with private banks, but is the right thing to do. This means that 60% of our students pay no tuition. That's right no tuition; so, 75% graduate debt-free, and those that do borrow graduate with an average of just $8,000 in debt. The national average is almost $40,000.
So what is missing? As our State budget declines, as all state budgets have for higher education, we have to be very mindful of "Resource Management." We simply do not have the ability to make our campus as beautiful as we would like or to provide incentives to support and retain those world-class faculty.
Public support is critical to our mission and to our strategic plan and it does more than put plaques on benches or other items on campus — it gives us the money to buy and install such things, as well as providing additional support. By buying a bench, coming to our gala, and offering other gifts, the public is helping us create a community, a beautiful Destination Campus and an opportunity for our students to Ascend. #
Dr. William Fritz is the President of the College of Staten Island.