Supreme Court Associate Justice Elena Kagan Honored at Hunter College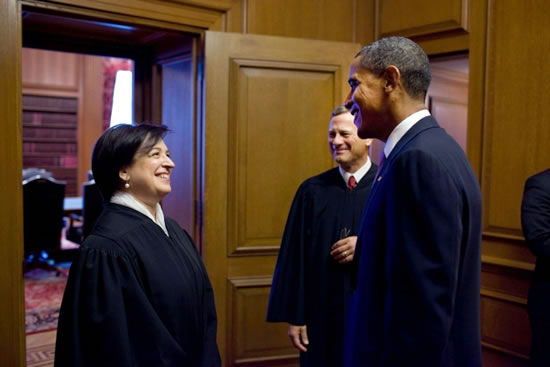 President Barack Obama talks with Justice Elena Kagan and Chief Justice John Roberts before Kagan's Investiture Ceremony at the Supreme Court in 2010.
Recently, Hunter College honored Supreme Court Associate Justice Elena Kagan with an Honorary Degree. Justice Kagan attended Hunter College Elementary School ('71) and Hunter College High School ('77) and is part of a strong Hunter College legacy; her mother Gloria (a Hunter College graduate) taught at Hunter College Elementary School for 20 years and her brother eventually went on to teach at Hunter College High School. In her opening remarks, Hunter College President Jennifer Raab praised Justice Kagan for her trailblazing career. "You have brought honor to the educational institutions that helped prepare you beginning with the Hunter College campus schools. You have truly fulfilled the Hunter motto: The Care of the Future is Mine. And you are also the perfect role model for one of my favorite sayings: "You can always tell a Hunter girl, but you can't tell her much!"
Justice Kagan gave a thoughtful speech upon receiving her Honorary Doctorate. "In my family, this is better than receiving the Nobel Prize!" She reflected upon her experiences at Hunter College High School fondly and praised Hunter College as a place where the American dream can indeed come true. Immediately following the ceremony, Justice Kagan sat down with the Dean of Harvard Law School, John F. Manning.
Dean Manning asked Justice Kagan a great range of questions. Among them, Dean Manning asked Justice Kagan about her mother, Gloria, who achieved almost legendary status as an educator. "My mother had very high standards. She really believed that you were wasting your time if you were not living up to your potential. That message came through loud and clear". She said she applies her mothers' advice in her own life and in her teaching at Harvard Law School. Dean Manning also asked her questions that could be helpful to the students in the audience about how to chart a career path. She spoke about her journey through college at Princeton University as a history major and eventually went to law schools "for all the wrong reasons". She found that she loved law school and especially enjoyed studying law. "I thought you could really make a different with it," she said, "law matters." She said that serendipity played a large part in her career; she said that when she was Dean at Harvard Law School she considered quitting law until she received the call for Solicitor General, which eventually led to her appointment to the Supreme Court. She offered good advice: "You shouldn't plan too much…you should be open to new possibilities, new things and keep an eye out for when they come along."
Dean Manning also asked Justice Kagan to explain how the Supreme Court works. Justice Kagan went over the nuts-and-bolts of the court; how cases are selected, how cases progress, and how the justices eventually reach a decision. One particularly interesting question was if opinions ever do actually change during a case. Justice Kagan said that oral arguments can have an impact. "All of us move back and forth over the course of reading the briefs and hearing arguments on a fair number of cases," she said. After Dean Manning interviewed Justice Kagan, she took questions from students including two fifth graders, a high school senior, and two college students.
Justice Kagan ended her time by thanking Hunter College, Hunter College High School and Hunter College Elementary School. "[They] so made me the person I am more than any other educational institution. By the time I got out of Hunter High School, I was pretty much what you see. I will be endlessly grateful to all the administrators and faculty members and fellow students for doing that." #