Humpback Whales Feast in NYC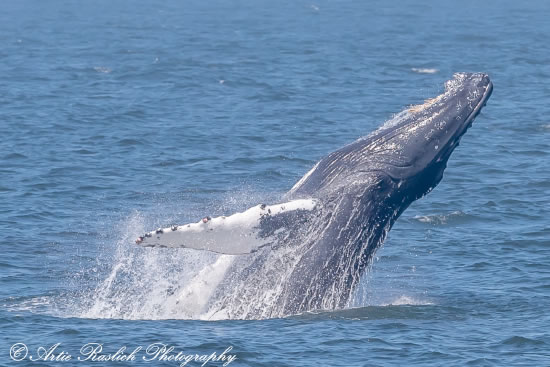 Humpback whale breaching off of NYC waters

NYC has been touted as one of the food capitals of the world, and for the past eight years humpback whales can now be added to the list of regular diners! These majestic marine mammals have been visiting our waters to feast upon the millions of pounds of menhaden, or bunker, an oily forage fish that abound in our offshore waters.
In the spring the humpback whales begin their long migration from the Caribbean waters, where they mate and give birth, and travel about 1,500 miles to the colder nutrient-rich waters of the North Atlantic, where food is abundant. The Caribbean may be beautiful, warm and crystal clear, but that is the color of emptiness; nutrient-poor waters with little plankton cannot support large schools of fishes. Hence the whales' annual migration is simply to get as fat as they can in NYC, feeding on thousands of fish per day and storing that energy for the long journey back home. Although a slow migration, ranging about 1–5 miles per hour, they do socialize and rest in a semi-sleeping behavior called "logging". Why semi-sleeping? Whales must remember to breathe, and rest one half of their brain at a time while sleeping. Their breathing is not on an automatic nervous system as ours is. We can get a good night's sleep without remembering to breathe. When full of energy, humpbacks have an amazing display known as breaching, which is jumping out of the water into the air, lifting up to 40 tons of their body weight. Little is know about why they jump. Scientists can make observations and easily record their behavior, but the reasons are speculative: communication, as in "here I am", or ridding the body of ectoparasites, or perhaps simply jumping for joy as a way of expressing exuberance or play behavior.
The American Princess, docked in Breezy Point, Queens, is not only NYC's sole whale watching vessel, but its entire crew is trained, tested and certified by Whalesense, in concert with the National Oceanic and Atmospheric Administration (NOAA) to assure that whale-watching enterprises use proper protocols to safeguard both the whales and the passengers, and commit to educational narratives. The American Princess is the platform from which Gotham Whale conducts its research by photographing the whales, documenting its behavior, and tracking its migration by latitude and longitudinal coordinates and communicating that to other whale (Cetacean) researchers along the Atlantic coastline. We also report whales that have been entangled with ghost nets or lose fishing gear, or injured or struck by vessels. They are indeed sleeping, feeding, and playing in traffic in one of the top ten busiest harbors in the world… the gateway to NYC!
Photographing the whales' tails is the key task, which identifies it as an individual. No two whales have the same tail or fluke pattern, much like a fingerprint. Gotham Whale, a not-for-profit organization founded by Paul Sieswerda, published the first NYC Humpback Whale Catalog with 70 fluke shots of individual whales taken by our dedicated staff photographer/curator Artie Raslich, and written by Celia Ackerman, GW researcher and naturalist. Other staff members include Catherine Granton, GW researcher and naturalist, as well as citizen scientist passengers onboard The American Princess. All have contributed to a total inventory of over 90 individual humpback whales indentified.
Committed to education, conservation and research, the American Princess becomes a floating classroom with educators for a "Science at Sea" three-hour excursion. Programs for teachers as a PD or for student field trips will provide first hand experience using oceanographic equipment, and exploring such topics as plankton, invertebrate zoology, whale biology, fish diversity, salt marsh ecology, and water chemistry. Come explore the wonders of the water world in our own backyard. The American Princess is a DOE vendor approved, insured vessel.#
For information, contact Director of Education M. Kafka at Goodfishdr@aol.com,
AmericanPrincessCruises.com, or Gothamwhale.org on Facebook for more information.