Dr. Jennifer Doudna Receives Pearl Meister Greengard Prize at The Rockefeller University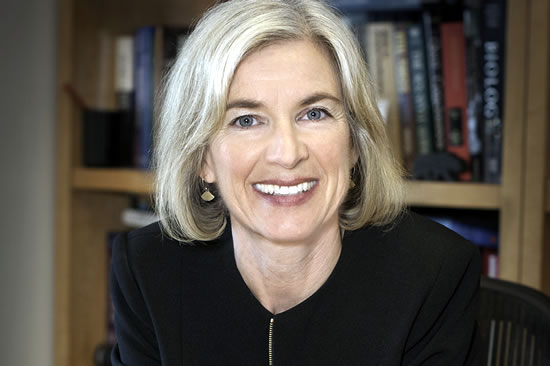 Dr. Jennifer Doudna
(Photo credit: Keegan Houser/The Rockefeller University)
Recently, The Rockefeller University presented the highly prestigious Pearl Meister Greengard Prize to Jennifer Doudna, Ph.D. Dr. Doudna is the Li Ka Shing Chancellors Chair in Biomedical and Health Sciences, a professor of chemistry and molecular & cell biology at the University of California, Berkley and an investigator at Howard Hughes Medical Institute. She is best known for her work on the CRISPR gene-editing technology that has sparked a scientific revolution.
The event began with a warm welcome delivered by Richard P. Lifton, M.D., Ph.D., President and Carson Family Professor at The Rockefeller University. After introducing a short video about the prize, he went on to introduce the evening's presenter, philanthropist and arts patron Agnes Gund. Known as "Art's Grande Dame," Agnes Gund is President Emerita, Museum of Modern Art, Founder and Chair of Studio in a School, Founding Donor. In her remarks, Gund praised The Rockefeller University for the special role it plays in public life. She praised the programs for parents, the institute for high schoolers, the fellowships for college students, the art offerings and lectures, as well as the programs for women scientists. "There is so much happening here to show how seriously The Rockefeller University believes that science must be perceived as a public good by the public," she said. She went on to discuss the importance of the prize and share some of her own personal interests and causes. She then introduced Dr. Doudna and gave an overview of her work.
Dr. Lipton then came to the podium to present the award to Dr. Doudna. He read excerpts from the citation:
You are being honored for your incredible discoveries about RNA structure and function, which have provided insight into the mechanisms of catalytic RNAs, revealed general principals that guide the folding of numerous physiologically important RNA molecules, unveiled critical aspects of RNA protein interactions, and have contributed mightily to the development of gene editing using CRISPR.
Following the formal presentation, Dr. Doudna joined Dr. Lifton for a short conversation. They discussed some of the exciting things going on her lab. She said, "We're continuing to understand and investigate the fundamental biology of these CRISPR adaptive immune systems… the other thing we're doing increasingly is trying to figure out how we can use this gene editing technology to effect human health in positive ways." They also spoke about the importance of keeping scientists involved in policy discussions. She spoke about the prevalent "unfortunate mistrust" in science and implored her fellow scientists to "get out of the lab" and talk about their research. She also encouraged young scientists to seek out mentors.
The Pearl Meister Greengard Prize is an international award that recognizes outstanding women in biomedical research. The prestigious award was established by Dr. Paul Greengard, the Vincent Astor Professor, and his wife, the sculptor Ursula von Rydingsvard. Dr. Greengard donated his entire monetary share of the 2000 Nobel Prize in Physiology or Medicine to Rockefeller University to establish the annual prize in honor of the accomplishments of women scientists. The prize was named in memory of Dr. Greengard's mother, who died giving birth to him. Past recipients of the award, as well as the $100,000 honorarium, include Dr. Mary Lyon, Dr. Philippa Marrack, Dr. Brenda Milner and Nobel laureates Dr. Elizabeth Blackburn and Dr. Carol Greider, among others. Joan Didion, Sandra Day O'Connor, Andrea Mitchell, Rachel Maddow and former president of Ireland Mary Robinson have all been past presenters. Dr. Doudna is the 19th recipient of the award over 15 years. #