Duffield Receives Engineering's Highest Alumni Honor at Cornell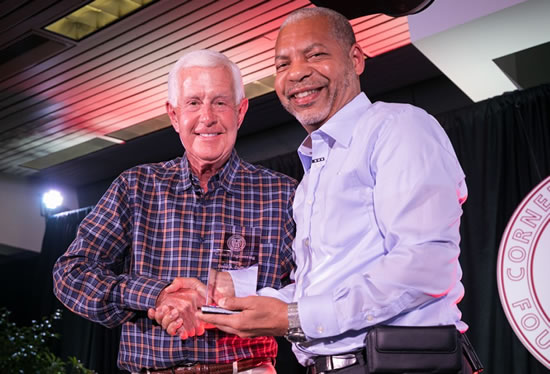 Lance Collins, the Joseph Silbert Dean of Engineering, right, awards David Duffield with the Cornell Engineering Distinguished Alumni Award – the college's highest alumni honor.
Cornell's College of Engineering presented David A. Duffield '62, MBA '64, with the inaugural Cornell Engineering Distinguished Alumni Award — its highest alumni honor — which recognizes extraordinary leadership, vision, and bringing distinction to the college.
"The college has produced many extraordinary and talented engineers in its 150-year history. Graduates in my opinion have changed whole industries. … It's been a wonderful privilege as a dean to meet these people," said Lance Collins, the Joseph Silbert Dean of Engineering, who presented Duffield the award recently.
An engineer, businessman, entrepreneur and philanthropist, Duffield founded six companies, including two highly successful business enterprise software firms, PeopleSoft and Workday.
Collins said that Cornell Engineering blends rigorous fundamentals with a sense of practical mission. "Dave, you embody the best of these ideals. It is really remarkable," said Collins. "You have a nose for [exploring] gaps in software, where there are opportunities … to fill those gaps with really interesting companies, with really interesting cultures."
David Duffield speaks with Lance Collins after receiving the Cornell Engineering Distinguished Alumni Award.
"Most important is your sense of personal mission. You're trying to improve the lives of the millions of people who use your software and the thousands of people who work with you, and I admire both of those greatly — and I use those lessons in my own work," said Collins. "Thank you for being an incredible example to us all."
Duffield has a long history of giving back to the university. His naming gift for Duffield Hall enabled the construction of one of the top nanoscale facilities in the country and provides a location that is the heart and soul of the College of Engineering. He also funded the Workday Atrium in Gates Hall and Workday Labs and other named spaces in Gates, Phillips, Rhodes, and Sage halls. Duffield was named Cornell Entrepreneur of the Year in 1996.
Duffield and his wife, Cheryl, founded Maddie's Fund, which supports companion animal welfare and promotes no-kill animal shelters across the country. Through this fund, the Duffields created and continue to support the Maddie's Shelter Medicine Program at Cornell's College of Veterinary Medicine, which has a strong partnership with the SPCA of Tompkins County.
Before receiving the Distinguished Alumni Award, Duffield shared insights with the dean and the Phillips Hall audience, discussing his college days (which included playing varsity baseball and playing bass in a rock band) and his own career — which started at IBM in Rochester, New York, following graduation.
Duffield explained that his father, who did not attend college, instilled in him a love for aerospace engineering. But his career trajectory changed when Duffield took a computer programming class taught by Bill Maxwell, now the Andrew Schultz Jr. Professor Emeritus of Engineering. Duffield said he performed poorly in the class, but Maxwell gave him the chance to retake it. Maxwell and Duffield eventually became partners in one of Duffield's early business ventures, and Maxwell proudly sat in the front row when Duffield accepted his award.
Duffield also offered words of wisdom for budding engineers. "When you graduate, join a great company. I joined IBM. … Today it would be Amazon, Microsoft, Apple … and of course Workday is a great company," Duffield said, and smiled when mentioning his new venture Ridgeline, a software development company. "Ridgeline. Join our team. We've got another A Team."
More advice followed. "Be in sales. Be aware that it is important that your company sell its products, whether you're in administration or development — you have got to be in sales," he said.
Duffield also emphasized the importance of innovation. "Go to this great company and look around for a problem to solve. Do it well, whether you're helping sell a new customer or helping to fix a customer problem," he said.
Finally, he said, hone communication skills, particularly writing and presenting. And "Work your tail off." #
Reprinted with permission from Cornell Chronicle.