American Museum of Natural History: Richard Gilder Graduate School Confers Degrees

(L-R) Richard Gilder Graduate School Dean John Flynn and Marine biologist Dr. Jane Lubchenco (who was honored with the degree Doctor of Science honoris causa)
(Photo credit: AMNH)

Recently, the American Museum of Natural History's Richard Gilder Graduate School held its sixth commencement to confer Ph.D. degrees in Comparative Biology and Master of Arts degrees in Teaching (MAT) under the iconic blue whale in the Milstein Hall of Ocean Life. This year, the program graduated 16 new science teachers working in high-needs New York schools and six Ph.D. graduates in Comparative Biology.
The school houses two graduate programs: The doctoral program in Comparative Biology and the Master of Arts in Teaching. This year, the school celebrated its ten-year anniversary since the first cohort of students enrolled at the first museum in the Western Hemisphere to confer degrees. To date, the Richard Gilder Graduate School has produced 78 MAT graduates who are teaching in high-needs New York state schools and 29 Ph.D. graduates, most of whom work in science, academic, educational, and museum fields, including at the National Science Foundation, the Smithsonian National Museum of Natural History, Royal Ontario Museum, and the University of Edinburgh.
The Richard Gilder Graduate School draws on the Museum's world-renowned collections, distinguished faculty, and tradition of globe-spanning expeditions for its innovative Ph.D. program in comparative biology, which covers the origins, history, and range of life on Earth. Under the leadership of Michael J. Novecek, the Museum's provost of science, and Dean John J. Flynn, the Museum's graduate school community also includes postdoctoral scholars, undergraduate summer researchers, and graduate students in longstanding collaborative Ph.D. programs with partner universities that include the City University of New York, Columbia University, Cornell University, New York University and Stony Brook University.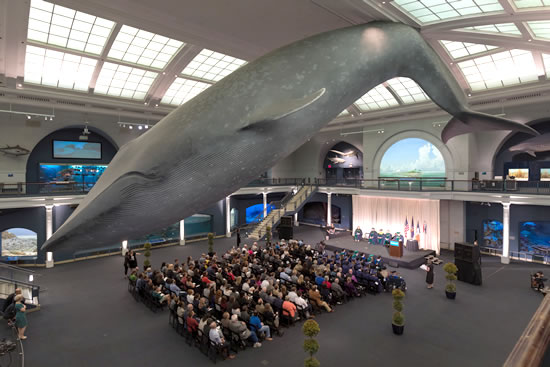 The 2018 commencement took place under the iconic 21,000-pound fiberglass blue whale model in the Milstein Hall of Ocean Life
(Photo credit: AMNH)
The MAT program addresses a critical shortage of qualified science teachers in New York State, particularly in high-needs schools with diverse populations, by providing a specialization in Earth Science for middle-school and high-school teachers.
President Ellen Futter, former president of Barnard College, gave an impassioned speech on the need to prepare future science advocates. "The Richard Gilder Graduate School trains young scientists and new science teachers within the context of natural history to be the voices and forces for science and education that our world so urgently needs.
Futter went on to eloquently say that "Natural history museums like ours document, protect, educate about and celebrate the natural world and the cultures of humanity." Our graduates go forth in a time that needs them so urgently- a time when some of society's loudest voices devalue science and reason, denigrate diversity and even truth." #