Ann Tisch and College Bound Initiative Celebrate Annual Gala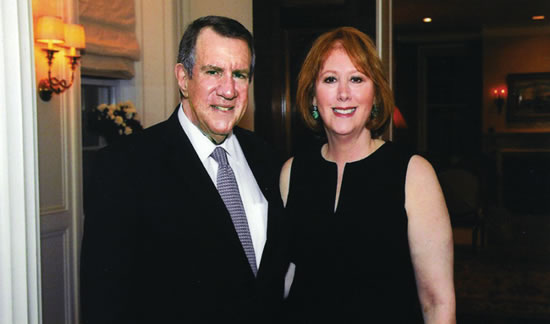 Ann & Andrew Tisch
The College Bound Initiative (CBI), founded by Ann Tisch in 2001, celebrated its 17th year of excellence at their annual celebration held recently at Jazz at Lincoln Center. CBI honored three outstanding figures: Erika Irish Brown, Global Head of Diversity & Inclusion at Billboard; Wes Moore, best-selling author and CEO of Robin Hood; and Marjana Chowdhury, CBI alumna and Legal Analyst at BlackRock. This year, the format of the event changed to accommodate short live interviews between CBI students and the honorees.
Erika Irish Brown was the first to be honored and interviewed. During the Q&A, Brown spoke about her background and shared some insight into her career path. She also shared some very important advice: Have fun in college, but remember that you are there for a purpose. "College is an opportunity," she said. Upon being asked by a CBI student if it was ok to fail, Brown answered that "the only way you can fail is if you don?t try." She highlighted the importance of soliciting feedback and using those experiences in a positive way.
The second to be honored was the highly motivating Wes Moore. Moore is the CEO not only of the nonprofit Robin Hood, he is a bestselling author, social entrepreneur, army veteran and former White House Fellow. Like Brown, Moore shared some information on his career path and explained that he wasn't always sure of what he wanted to do. "If you don't have a target, then good luck getting there," he said he realized. It was then that he created "targets" throughout his life, which helped shape him into who he is today. He also stressed the importance of college in the sense that it, along with what you learn on paper, can also have a tremendous affect on your mindset."There is a never room that you will be in that you're in because of someone's kindness. You're there before you belong. You're there because you earned it," he said to applause.
The final honoree was Marjana Chowdhury. A philanthropist and alumna of CBI at the Young Women's Leadership School of East Harlem, Chowdhury currently works at BlackRock as a Legal Analyst. Chowdhury, who is the current titleholder of Miss Bangladesh 2018, shared her positive experience with CBI. She said that when she was a student, she would approach her CBI counselor with questions about whether she should do more extracurriculars or certain activities that were outside of her comfort zone. She said that his response was always "why not?" This advice has carried her through her adult life. "The only person who was holding me back was myself. To this day, when I grasp at opportunities the question to myself is 'why not'," she said.
Like previous years, the 2018 CBI graduates will be going off to an impressive array of colleges in September. New York University, Bryn Mawr, Barnard, Columbia and Yale are just some of the institutions CBI students will be attending. This year, CBI has impacted over 18,000 students in 34 schools. #