Glenn Close and Other Change Makers Honored by Child Mind Institute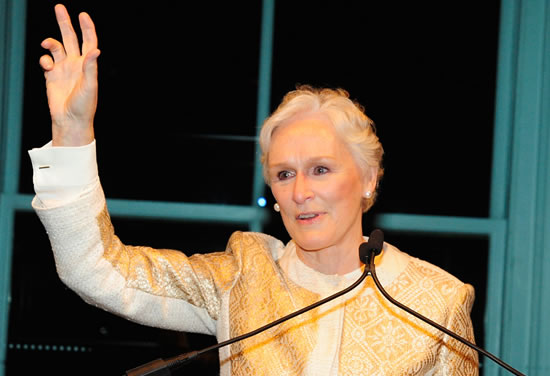 Glenn Close
Recently, the Child Mind Institute continued its annual tradition of honoring innovators with the 2018 Change Maker Awards. The event was held at Carnegie Hall and hosted by Senior Legal and Investigative Correspondent at NBC News, Cynthia McFadden. Over the course of the evening, six recognitions were awarded.
The first was the Outstanding Organization Award, which was presented to Jeff Borenstein, MD, President and CEO of Brain & Behavior Research Foundation. For over 30 years, BBRF has been the largest private funder of cutting edge research grants to advance what is known about brain and behavior disorders. "We are committed to finding the most innovative ideas that will produce better and more effective treatments and ultimately prevention methods and cures," said Borenstein. Finalists for this category included American Academy of Child and Adolescent Psychiatry, Common Sense Media, Mental Health America and National Child Traumatic Stress Network.
First Lady of New York City Chirlane McCray, a staunch mental health advocate, introduced the next award, which was the Corporate Advocate Award. Given this year to NBCUniversal, the award is given to an organization that uses its brand and influence to encourage engagement and conversation about children's mental health issues. Before presenting the award to host McFadden, First Lady McCray showed a clip from NBC Nightly News that focused on children with mental health disorders. "A series of this scope has the support from the top of our organization," said McFadden, sharing that when she pitched the idea of a yearlong series on child development and mental health, it was met with almost unanimous support. She pointed out the NBC producers in attendance that helped to make the series a reality as well.
Next up was the Champion Award. Gavin Newsom, Lieutenant Governor of California was the honored recipient. Over the course of his illustrious career, Newsom has tirelessly championed innovative public policies regarding mental health. As a candidate for California governor, he has pledged to prioritize prevention, early identification and intervention for mental health disorders. Unable to attend in person, the Lieutenant Governor sent a pre-recorded message of thanks.
To Write Love On Her Arms, a non-profit movement dedicated to presenting hope and finding help for people struggling with depression, addiction, self-injury and suicide, received the Community Builder Award. For over 10 years, the organization has responded to over 200,000 messages in over 100 countries and invested 2.1 million dollars into treatment and recovery. During his acceptance speech, founder Jamie Tworkowski said he was honored to receive this particular award because community is so important to him. "This idea that people need other people is at the heart of our work and our message," he said. Finalists for this award included Anxiety and Depression Association of America, Depression and Bipolar Support Alliance, International OCD Foundation and JED Foundation.
The People's Choice Award was given to Attitudes in Reverse, which aims to eliminate stigma around depression. Since 2011, founders Tricia and Kurt Baker have spoken with more than 65,000 students about mental health and suicide depression. They also created a powerful In Their Shoes exhibit that augments their education program. Finalists for the People's Choice Award included Gary Altheim of Growth and Development Services, Scilla Andreen of IndieFlix Foundation, Nicole Hockley of Sandy Hook Promise, Randi Silverman of Youth Mental Health Project and Rosalie Whitlock of Children's Health Council.
The final award of the night was given to Academy Award nominated actress Glenn Close. In 2010, Close founded Bring Change to Mind, a charity dedicated to confronting the stigma and discrimination associated with mental illness. With her sister Jesse standing beside her, Close shared their experiences with Jesse's bipolar disorder and how the condition was undiagnosed for years. "There was no Child Mind Institute, there was no early intervention," Close lamented. She shared that the main message of Bring Change to Mind is to "start the conversation". #