Politicians Honor the Life and Legacy of Edie Windsor (LGBTQ)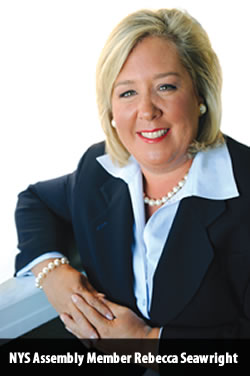 Brad Hoylman, and Gabriel Blau of Equality New York joined Judith Kasen-Windsor and LGBTQ activists to celebrate the life and legacy of Edie Windsor. They announced the Legislature's introduction of a resolution commemorating Edie's tireless advocacy on behalf of LGBTQ rights throughout the country. Edie was an LGBTQ rights activist and lead plaintiff in the monumental 2013 Supreme Court case United States v. Windsor which successfully overturned Section 3 of the Defense of Marriage Act.
"Edie was, and always will be, an inspiration, icon and leader for the LGBTQ community and I am so fortunate to have known her," said Assembly Member Seawright. "Her dedication and commitment to fighting for equal rights should serve as a reminder to all of us: When we fight for what is right, no matter how difficult the battle, we will prevail."
Edie's tenacity and determination did not just change my life, it changed the lives of hundreds of thousands in the LGBTQ community who only wanted to exercise their basic human right to love who they love. She was a shining beacon for all in this country who fought so hard to make marriage equality a reality. Edie Windsor's legacy is a tremendous acknowledgement of how much each and every one of the LGBTQ community and allies meant to her, and how this community, through its activism and engagement, endures."
"The arc of justice bends forward only when it is pushed, and few pushed harder than Edie Windsor," said Senator Hoylman. "Her fight for equal representation under the law irrevocably changed the lives of so many LGBTQ Americans, including my own."
"Defeating DOMA would be an incredible legacy for anyone, but Edie's legacy is even more so," said Gabriel Blau, Chair of Equality NY. "Throughout her life she pushed the limits and stood up for LGBTQ people, for youth, and for the dignity of all."
"Edie Windsor leaves behind a legacy of fierce activism that will continue to inspire the LGBTQ community for generations," said Deborah Glick, Assembly Member.
"Everyone who is now able to marry the person they love will never forget Edie, and everyone brave enough to fight against injustice will look up to her."
Today's resolution recognizing Edie's commitment to equal rights under the law, not only celebrates the progress that has been made, but serves as a call to action for more progress to come. #