Born Dancing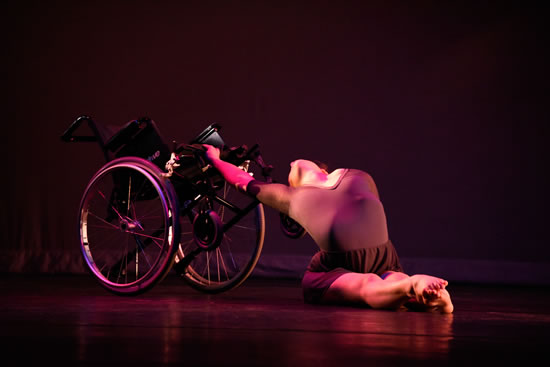 It's rare, but once in a blue moon getting stuck on a NYC subway can actually be a good thing. Like when I was stuck on the N-train a few years ago and it occurred to me that I had never seen a person with a (visible) disability in any of my dance classes. I wondered where they'd go if they wanted to dance. Then I wondered if they had a place to go. And so the idea for Born Dancing was born….. (Please indulge the obvious pun) right then and there on a stalled N-train: Born Dancing would be the place where everybody dances.
At Born Dancing we produce original full-scale dance productions, often with live music, that feature professional and novice dancers ages 8 to 70 with and without disabilities (such as Deafness, Cerebral Palsy, Muscular Dystrophy, Autism, Paralysis, Dwarfism, Down syndrome, Intellectual Disabilities and others).
Born Dancing became a nonprofit in 2014, launched dance education programs in 2015, held its inaugural evening-length performances in March 2016, created two more large productions since then in 2017 and 2018, is in pre-production for its fourth performances.
The overarching goal of Born Dancing is to facilitate the participation and employment of people with disabilities in every aspect of dance and theater production. This objective developed not only out of my musings on the N-train, but out of my work in Dance in Special Education in New York City Public Schools (District 75) as well as my graduate work in Dance Education. Three discoveries became paramount to the goals of Born Dancing:
1. That students graduating from Special Education (especially those without a high school diploma) fall off the proverbial cliff after graduation only to plummet into ongoing unemployment.
2. That disability connects disproportionately and in complex ways to race and family socio-economic status.
3. The book Unequal Fortunes; Snapshots from the South Bronx by Arthur Levine and Laura Scheiber which distilled lessons from those who beat the odds of race and income. Chief among them is "contact with the world outside the neighborhood" such as a summer camp or a field trip to a college. Children and teens experiencing people with different resources, education or experiences – an experience that for them can be almost so foreign it might as well be a 'study-abroad'.
Born Dancing not only offers dance education programs specifically to students with disabilities, it also has apprenticeship programs for adolescents with disabilities in Costume Design, Lighting Design, Videography, Box Office/Ushering, and Stage Management. Most importantly we take our children and teens out of their day-to-day environment and into prestigious New York City theaters where they perform, design, and produce alongside professionals on equal footing. They rehearse and dance with the pros, they help pick colors for the lights and learn how to gel lights, their ideas and sketches make their way into our costumes, they usher in the audience, they are on headset behind the scenes, they steam the costumes and they run the sets and props. This week of on-site real-world learning at the theater is central to our work and approach. It is a three-ring circus where real magic happens when children and teens who have never left their Borough (true for too many of them) or who have never been to a theater to see a show (true for 14 out of 15 of our High Schoolers in 2016, for example) see their name in the program, receive roaring applause from the audience, and change their families' and friends' perception of them forever.
Over time we will develop multi-year partnerships with schools, provide internships and on-the-job training, and facilitate placements for students in jobs in dance and theater production. We created our first two mini internships in Costume Design/Wardrobe for two of our Adolescents with Intellectual Disabilities on an independent film in New York City in the summer of 2016. More will follow.
Our students run the show, they steal the show, and they show us in no uncertain terms that artistic merit knows no boundaries and that we are better as a community when we share the spotlight.
Please visit us at borndancing.org. This is one of our favorite videos highlighting our students and we think you'll like it too: https://youtu.be/zkhbZ3J0Xrk #
Melissa van Wijk holds five NYS certifications, including in Dance K-12 and in Students with Disabilities 7-12. She earned her Master's degree in Dance Education from NYU, and works as a Special Education Itinerant Teacher and Early Intervention Specialist.