Hunter Student Thamara Jean Named a 2018 Rhodes Scholar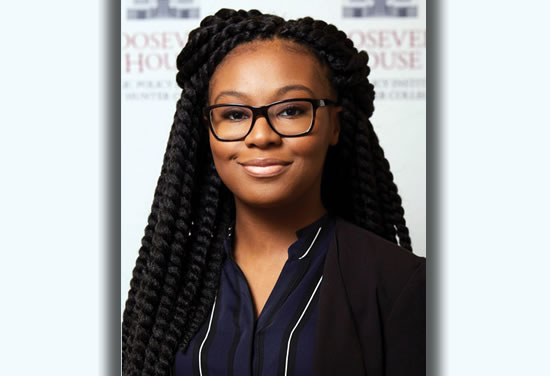 Thamara Jean
Hunter College student Thamara Jean '18 has been named a Rhodes Scholar, the first Hunter student to receive this prestigious award. Jean, who was born in Brooklyn to Haitian immigrants and graduated from Edward R. Murrow High School, is one of only 32 Americans selected. A Rhodes Scholarship is the oldest and best known award for international study and considered the most famous academic award available to American college graduates.
"Thamara Jean is an amazing story," said Hunter College president Jennifer J. Raab. "She is an extraordinary young scholar and activist who will make her mark as a public intellectual. She attended a New York City public high school before becoming a Macaulay Scholar at Hunter, and she represents Hunter's commitment to making the American Dream come true."
During her junior year, Thamara wrote a senior thesis on the Black Lives Matter movement. It was recently published in article form in the Columbia University Journal of Politics and Society. Last summer, Thamara worked as a researcher for Prof. Brandon Terry at Harvard University, who is writing a book on the intellectual history of the Black Power movement.
"We are tremendously proud of Thamara's individual achievement, but also of this important moment for Hunter College," said President Raab. "Hunter's recently-created Office of Prestigious Scholarships and Fellowships, funded by privately raised money, is modeled after advising services at elite private universities that guide students through the top graduate-scholarship application processes. Hunter has an exceptional student body and with the new services this office offers, we are helping connect our talented, hardworking young people with the opportunities they deserve. Last year, Hunter had its first Marshall Scholarship winner; this year, its first Rhodes. We are truly proud to be leveling the playing field with institutional support for these budding academic stars."
Rhodes Scholarships provide all expenses for two or three years of study at the University of Oxford in England. Thamara Jean will enter Oxford in October 2018 and study political theory.
In addition to being a Macaulay Scholar at Hunter, Thamara is also a Thomas Hunter Honors Scholar, a Mellon Mays Undergraduate Fellow, and an Eva Kaston Grove Fellow. Throughout college Thamara has been active in community service, working for organizations like the activist civics curriculum program Generation Citizen. As a "Democracy Coach," she led a class of 12th graders in Bushwick, Brooklyn, to develop a community-based civic action plan that addresses issues such as affordable housing and gentrification. By engaging in this and other forms of community service, Thamara came to believe that positive social change could be amplified if, rather than "leading from the top," activists like her helped empower groups of people to make a difference in their communities.
According to Thamara Jean, the Rhodes Scholarship means a great deal to her whole family and her fellow students. "Both my parents are immigrants from Haiti and seeing their kids accomplish so much just reaffirms why they came to this country in the first place. Also, being the first from Hunter to win a Rhodes is meaningful because I can play an important part in establishing a path for students who, before now, may never even have considered pursuing an opportunity like this. At the same time, because so many students at my school come from such different backgrounds, we can bring unique perspectives and experiences to Oxford, continuing the good work Oxford has been doing recently to bring in students like me, who will be at the forefront of taking on the unprecedented challenges of our future."#