Design That Reaches Us All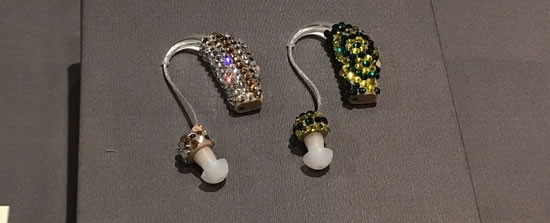 Form and function equally integral in the design and efficacy of everyday objects
If you're not feeling sure of step, if your hand tremors when you dip into a bowl of food, designers are working on products that make daily living functional for all users in good times and bad. At the Cooper-Hewitt Museum, products that help us to better understand and serve us when we contract a difficulty are on display (91st and Fifth) in an exhibit called Access + Ability, which runs till Sept. 3rd of this year.
If you have or someone you love has Parkinson's or another health concern that affects balance, an insole that vibrates can give them more sensory information about where they are stepping (PathFeel). Or a light attached to the front of one's shoe(s) can shed a horizontal light on the ground before one, unlocking one's 'frozen gait,' i.e., encouraging one to take a step (PathFinder).
A grab bar that is rectangular rather than horizontal gives one several options for steadying oneself in a tub - vertical on two sides, and horizontal above and below - a simple change that gives a variety of options. Designed by product designers at Michael Graves Architecture and Design, the Shower Trellis Grab Bar can also hold a hanging brush, allow one to rest one's foot to shave, and hold a clip-on shelf at the top for shampoo or soap.
The exhibit also shows the ingenuity in forming a union of technology and human functioning that makes a meal successful for someone who needs an assist. For shaky hands there are several variations of spoon design, one electronic and one a simple plastic. The electronic one (Liftware Level and Steady) allows you to dip into food, and if you should hold the spoon at an angle that might put the food in jeopardy — an angle that is not horizontal — the spoon will right itself by physically bending back into a horizontal position. The Tritan Plastic one (S'Up Spoon) has a simple sculptural shape, whose well is deeper than that of an ordinary spoon, and rather than using your upper lip + teeth to remove food from the spoon you tip the food into your mouth (great for soup, cereal or pasta).
Some of the items in the exhibit one can touch, such as a blue shirt that appears to have a button at the cuff; but behind each button on the shirt is a magnet, so one does not have to insert a button in a buttonhole if that is the struggle as in the case when one has arthritis. A shoe whose design was suggested by a teenager (who has cerebral palsy and has difficulty inserting his foot into a hightop sneaker) gives one the option to unzip the high top portion revealing a flatter shoe that is easier for the foot to enter, at which point one can zip back the high top (Men's Zoom Soldier IX FlyEase).
There's also a magenta Adaptive Puffer jacket for children which has several options for the manner in which one puts it on – a wider zipper, Velcro seams at the sides, and Velcro joints where the sleeves attach to the body so that they can be removed making a vest or perhaps an easier way to insert one's arm into a sleeve.
Fashion has not been forgotten in just about all of these products — from a hearing aid that appears to be more of a piece of jewelry (Bedazzled and Bejeweled Earring Aid) to 3-D printed and fancifully designed covers to attach to the front of a below-the-knee prosthesis.
We all will have challenges in dealing with our environment at some point in our lives. We all try to adapt where we can and designers particularly are in a position to solve the problems our change in functioning poses. The Cooper Hewitt Museum has made a major step forward in bringing these products to our attention. They will do so again in an upcoming exhibit, opening April 13th, called The Senses: Beyond Vision. #
Karen Kraskow, M.A., M.S.W. studied Industrial Design at RISD and Pratt, has researched and written on products that can serve users with blindness or low vision, for the Cooper Hewitt Museum in connection with The Senses: Beyond Vision.