Battling for a Kidney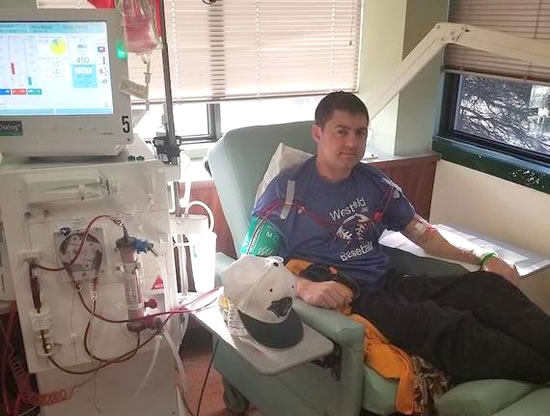 Mike Cappiello undergoes dialysis
Mike Cappiello hit 46 doubles playing college baseball for Plymouth State University in New Hampshire – the most in school history. In April of 2012, during his senior year he was off to another good start to the early season when he broke the record for doubles with his 46th and final one of his career. He thought he was going to be able to add to this total as a durable never- miss-a-game grinder of a player. He barely made it into second that day. Huffing and puffing all the way to the base like he was running a marathon for the first time without training. After the game, Cappiello couldn't even enjoy eating nachos with his teammates.
"I just didn't feel right," said Cappiello, who was the cleanup hitter and one of the team's most durable players, "the next day I was in the emergency room."
At the emergency room, the physically fit Cappiello, who normally weighed 195, was at a staggering 235. The doctors immediately called for an array of blood tests and he was sent to Dartmouth Hospital, considered the best in the area. His parents met him at the hospital and he was administered further testing. Eventually the doctors determined with the help of Columbia Presbyterian Hospital that Cappiello had a rare kidney disease for someone so young. He was diagnosed with Focal Segmental Glomeruloscerosis. It is a disease that leaves the kidney unable to properly filter blood in the body. This ended his collegiate baseball career.
Since 2015, Cappiello has undergone 5 surgeries for the access in his arm to facilitate the Hemo- dialysis that he undergoes 3 times a week for 3 and a half hours each session. These grueling sessions begin at 5:30 AM and leave Cappiello spent.
"Every day I come from dialysis I'm mentally and physically drained," said Cappiello, who grew up and still lives in Westfield, New Jersey. "I pretty much eat breakfast and then take a 1-2-hour nap before I can even start my day.
These surgeries have left his arm disfigured and scarred. He calls them "battle scars," from the fight he is giving. This has restricted him from doing things he loves like playing baseball, weightlifting, water skiing, and snow skiing. He feels a buzzing sensation in his arm, often keeping him up at nights. Still, he maintains a strikingly positive disposition.
"When people look at me they don't see my disease," said Cappiello. "They just see a normal 28-year-old guy. This is what I want people to see. But dealing with this kidney disease has been tough, every day I try not to let it affect me."
Hemo-dialysis treatment is essential for Cappiello as it pulls excess water out of his system and filters the blood like a normally functioning kidney would. This process is needed since he is unable to produce urine. Unfortunately for Cappiello, the only treatment left for him is finding a donor. He is currently listed at 3 hospitals in the tri-state area but the waiting time is long between 4-10 years. The wait is even more excruciating in that he can receive a kidney from either a deceased donor or a living one. A deceased kidney does not have as long of a life span as a living donor, only 10-15 years, this kidney also poses more risk to Cappiello because of the unknown nature of the donor. He would prefer a kidney from a living donor, but finding a willing person and one who matches his blood type is no easy task.
"It's been hard," said Cappiello. "My parents and other family members
were unable to donate for various reasons although they really wanted to. "This is a big ask but there is a big return and it would help bring my life back on track."
For more information email kidney4capp@gmail.com #
In addition to being the Sports Editor of Education Update, Mike Cohen is the founder/director of Throwback Sports (a sports program for children of all abilities). He can be reached at throwbacksports@verizon.net