WOMEN SHAPING HISTORY 2018


Deborah Shanley
Dean of Education, Lehman College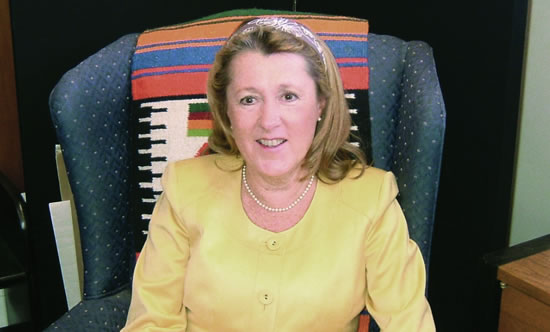 Deborah Shanley, Dean of Education, Lehman College
1. WHAT HAS INSPIRED YOUR CURRENT CAREER PATH?
I was the oldest of five and enjoyed close contact with 12 cousins, one with autism. I guess what inspired me was working with Peter, now 55, when I was young to find ways that he could feel included in everything we did and to help celebrate his special abilities within a very large family unit. Upon reflection, Peter inspired me to pursue special education. My other inspiration was a high school English teacher, Paul McPadden, who saw something in me that no one else did and inspired me "to never give up." He remained my biggest cheerleader until he passed after a struggle with cancer and a life long lover of reading.
2. WHAT ARE SOME OF THE GREATEST CHALLENGES YOU'VE FACED? HOW DID YOU OVERCOME THEM?
My biggest challenge was finding enough money to attend college. I got very good at exploring scholarship opportunities and ways to raise monies to cover the costs of my educational pursuits. I became a "great" waitress from the age of 16 and "banked" my tips to pay for textbooks and other expenses not factored into room and board costs. The National Defense Loan Program supported me and so many others to become educators and then accept jobs in our hardest to staff school communities. Even in my first teaching job in the Miami-Dade County Public Schools, I continued waiting on tables at night to supplement an inadequate salary.
3. WHAT ARE SOME OF THE ACCOMPLISHMENTS YOU ARE MOST PROUD OF?
My proudest accomplishments- a relentless pursuit over 40 years, of building university-school-informal organization partnerships in the preparation of the next generation of educators and to continue to support those educators that serve our students and families in our schools. The new book, Working Together: Enhancing Urban Educator Quality Through School -University Partnerships I co-edited documents the work recognized by the Council of the Great City Schools(CGCS) of these partnerships and others that can help us think through the complexities and contexts in which our work is anchored. All of my work over 20 years with Michael Casserly and his team at the Council has been a high point - serving on the Ex. Board, Chairing the Colleges of Education group and being a member of the Males of Color Initiative and co-chairing the Achievement and Professional Task Force have been highlights to helping Support and build bridges with our urban districts and locally with the DOE.
At Medgar Evers College, (1) building "the Para of all Para Programs"; (2) the International work and partnerships built with Sierra Leone and Vietnam; At Brooklyn College - (1) Diversifying the faculty at BC to reflect the changing demographics in Brooklyn; At Lehman - (1) connecting the dots with a range of Bronx Community partners with our educator preparation programs; At NYS level - continue to serve on NYS Task Forces revisiting educator preparation regulations.
At National Level with the National Park System, I am proud of the work I've done as a National Parks Second Century Commissioner to develop a vision and supporting policy recommendations.
4. WHO HAVE BEEN THE MOST INFLUENTIAL MENTORS IN YOUR LIFE?
My HS English teacher-Paul McPadden; my graduate advisor, Dr. Jay Powell.
5. WHAT WOULD YOU DESCRIBE AS A TURNING POINT IN YOUR LIFE?
1. Building an experimental program for 7-9 graders in Miami-Dade.
6. WHAT ARE YOUR GOALS FOR THE FUTURE?
To stay focused on developing a 5 Year Lehman Educator Preparation Plan to improve our schools and to keep our work & programs at Lehman of high quality. #