GUEST EDITORIAL - WOMEN SHAPING HISTORY 2018


Nevertheless, They Persisted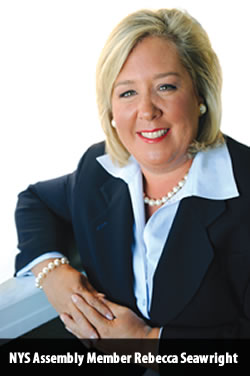 In March, Women's History Month, we must take time to recognize the women of today who are speaking up, inspiring others and working diligently to enhance the well-being of our community: The Upper East Side, Yorkville, and Roosevelt Island. There will never be enough ways to thank them, but this year I will honor fourteen women with the New York State Assembly Woman of Distinction Award. The ceremony will be held at the historic Abigail Adams Auditorium, home to the Colonial Dames of America on Thursday, March 8 from 6:00-8:00 pm, 417 East 61st Street.
Award recipients include Erlinda Brent, Dr. Beverly Dempsey, Joan Falcetta, Lisa Fernandez, Nikki Leopold, Rachel Levy, Trudy L. Mason, Madelaine Piel, Jennifer Ratner, Naomi Semeniuk, Mallory Spain, Carol Tweedy, Kathleen Walsh and Sharon Williams. We are a better community, city and state for the women who will accept the award on March 8.
In New York State, we have always led important movements, including hosting the first Women's Right's Convention in Seneca Falls. Our rich history as a progressive state for women began in 1917, the year that women were granted the right to vote before the 19th Amendment passed, allowing all women the right to vote nationally. Thanks largely in part to fearless New Yorkers, like suffragette Susan B. Anthony and abolitionist Sojourner Truth, we have come a long way since our nation's founding—but not far enough. The courage, persistence and urgency they possessed has inspired other trailblazing New Yorkers to continue their fight, including disability rights advocate Judith Heumann, who helped develop the Individuals with Disabilities Education Act, Gloria Steinem, a world-renowned activist who co-founded the Women's Media Center to increase women's visibility in the media, Hillary Clinton, the first woman to win a major-party nomination for president, and Ibtihaj Muhammad, who made history as the first female Muslim-American athlete to earn a medal at the Olympics while also wearing a hijab. These brave women, and so many more, have repeatedly stood in the face of discrimination and marginalization to make their mark on the world and pave the way for others.
Most recently, the #MeToo movement created by Queens native Tarana Burke, founder of Just Be Inc. and senior director of the Brooklyn-based nonprofit Girls for Gender Equity, has added renewed energy to the fight for equality. The solidarity campaign has brought attention to sexual assault and harassment issues that have plagued our society for far too long, joining the rallying cries of the millions who marched through the streets to demand equality and greater progress following the 2016 election. Grassroots movements like #MeToo are pushing forward to break down the barriers which have restricted women in their pursuit of health, happiness and gender equality.
In a time when much of the headway we have made is being threatened by a hostile federal administration, my work in the Assembly includes a persistent focus on protecting and strengthening women's rights. More than half of minimum wage workers in New York are women. That is why in 2017 we raised the minimum wage so that they have a greater chance to get ahead and reach economic security. We also established a paid family leave program so that women are not punished for caring for their families. We are also continuing the push to ensure a woman's reproductive health decisions are hers to make. All of these changes started with one individual who raised their voice, initiating a ripple of change.
Since assuming office in 2015, I have sponsored and cosponsored several bills for women's equality. I sponsored a bill which was signed into law to expand access to breast cancer screenings without cost sharing, to include breast tomosynthesis screenings also known as 3D Mammography. We have received inquiries from legislators from other states seeking to pursue similar legislation. This session, I hope to posthumously honor Edie Windsor, lead plaintiff in United States v. Windsor which successfully overturned the Defense of Marriage Act. She is a woman who changed the course for LGBT individuals in the US by standing up to the federal government and winning, and she deserves to be recognized and remembered. On Women's International Day, we passed the Equal Rights Amendment (ERA) Resolution calling on the 115th Congress to ratify the ERA into the Constitution. I will continue the momentum with an Equal Rights Amendment bill to ensure women equal rights under our New York State Constitution. Until women are recognized under our constitution and for their noble persistence and contributions in every field, we will never reach full equality. I will keep up the fight to ensure that my constituents' voices are heard and their ideas are put into motion like the grassroots movements that are sweeping our nation.
We hope you may be able to join us for an inspiring and uplifting evening on March 8. Join us, as never before, as we celebrate, agitate and no longer wait— for equality as we work to improve the economic and social future of our great state. #