WOMEN SHAPING HISTORY 2018


Shelly Chandler
Provost, Beacon College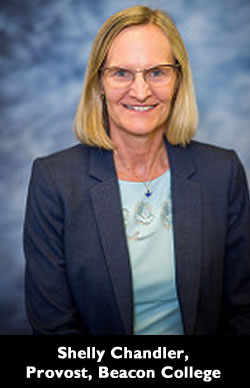 1. WHAT HAS INSPIRED YOUR CURRENT CAREER PATH?
Growing up in a farming area in northern Michigan that employed seasonal migrant workers, I witnessed capable, hardworking people who were not fairly treated by the community. From seeing the plight of the migrant worker, I always knew I wanted to work with disadvantaged people. When I began working for Beacon College, I knew I had found a match for my interests as I began educating students with learning disabilities. The students motivated me to be better at my teaching, and to continue to learn so I could be more effective at helping them be successful. Watching my students' transformations provided many rewards and benefits.
2. WHAT ARE SOME OF THE GREATEST CHALLENGES YOU'VE FACED? HOW DID YOU OVERCOME THEM?
Some of the greatest challenges revolve around being a female, first generation college student from a rural area. Growing up in my environment, women were expected to get married young and only work in certain occupations. Despite those challenges, I always told myself that I wanted a job that a man would be proud to perform which led me to working on earning my degrees.
3. WHAT ARE SOME OF THE ACCOMPLISHMENTS YOU ARE MOST PROUD OF?
I am proud to have raised three children and to be married to the same man for 39 years. Professionally, I am most proud of helping to create a successful academic model for students with learning disabilities that supports their journey to earn a rigorous, accredited bachelor degree - despite others telling them that they were not college material.
4. WHO HAVE BEEN THE MOST INFLUENTIAL MENTORS IN YOUR LIFE?
My influences have included my parents who worked extremely hard on the family farm teaching me the value of hard work. They also told me from an early age that I could figure anything out, so I believed them. They encouraged me to study and learn.
My husband also was an influential mentor who supported me financially and emotionally through many years of higher education and through many progressively challenging jobs.
5. WHAT WOULD YOU DESCRIBE AS A TURNING POINT IN YOUR LIFE?
Earning a doctoral degree was a turning point for me. It opened up doors that would have remained shut to a female without an advanced degree. It seemed like I was taken more seriously and considered a person with something to offer.
Working for the current president of Beacon College has also been a positive turning point for me. He recognized my leadership skills and hard work and made me feel like an integral part of the leadership team.
6. WHAT ARE YOUR GOALS FOR THE FUTURE?
My goals for the future include working hard at Beacon College to continually improve its programs and services so more students with learning disabilities can achieve an education and be productive members of society. #