WOMEN SHAPING HISTORY 2018


Drs. Irina & Thomas Bock
Founders of Heritx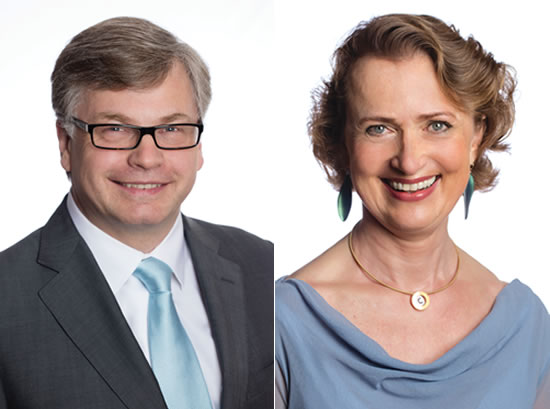 Drs. Irina & Thomas Bock, Founders of Heritx
1. WHAT HAS INSPIRED YOUR CURRENT CAREER PATH?
Science and medicine focus almost exclusively on treating cancer after it has already occurred. However, sparing people from cancer (i.e., cancer prevention) requires intervening before cancer occurs.
Therefore, we pursue therapies that stop and eliminate pre-cancer cells before they can develop into cancer cells.
HeritX focuses on pre-cancer vaccines that teach the immune system how to recognize and eliminate pre-cancer cells. We also explore therapies to protect normal cells and pre-cancer cells from developing into cancer cells, by repairing abnormalities in their DNA. DNA is the genetic blueprint of cells.
DNA damages and abnormalities occur sporadically in everyone, but they persist and accumulate especially fast and frequently in people with genetic DNA repair defects, such as carriers of an inherited BRCA gene mutation. People with a BRCA gene mutation face a very high risk of developing five aggressive cancers (breast, ovarian, prostate, pancreatic cancer and malignant melanoma), often at an early age.
2. WHAT ARE SOME OF THE GREATEST CHALLENGES YOU'VE FACED? HOW DID YOU OVERCOME THEM?
The two historic hurdles to cancer prevention have been, first, the absence of an indicator (biomarker) pointing to healthy people who will develop cancer or to the earliest pre-cancer changes in healthy cells. Without knowing whom or what to study, it is unclear where to even start prevention research.
Secondly, investors and talent hesitate to pioneer a preventive therapy because it is more challenging and may take longer than following proven paths for developing another treatment. This impacts the predictability and pace of financial return as well as of scientific publications, notoriety and careers.
To overcome the first hurdle, we at HeritX initially focus on a cancer – inherited BRCA cancer – for which a biomarker already exists, and whose biology suggests that its prevention will create a prototype for preventing other cancers. We believe BRCA is a gateway to cancer prevention at large. In inherited BRCA cancer, we already know the first step in its development (the inherited BRCA gene mutation), we can identify people at risk of these cancers (through BRCA genetic testing), and we can therefore focus biomedical tools and technologies on the BRCA biology and related molecular pathways to stop cancer before it starts.
To address this second barrier, HeritX applies an open source approach for identifying the best ideas from all fields, sectors and geographies – going beyond the abilities of single institutions or specialties. HeritX has also created a faster research and development (R&D) model to turn scientific ideas into FDA-approved preventive therapies. To succeed, HeritX not only works together with some of the most creative academic researchers but also with some of the most experienced biopharmaceutical drug development experts.
3. PROUDEST MOMENTS OR BREAKTHROUGHS:
Right after Irina had been diagnosed with two inherited BRCA cancers, breast cancer and melanoma, I reached out to many experts in the cancer field which was facilitated by having worked in cancer medicine, research and drug development myself for more than 25 years.
However, I did not find a comprehensive scientific effort that made Irina and me confident that our children and their generation will have available preventive therapies that protect them from BRCA and other cancers. On the contrary, most experts found this goal either too difficult, taking too long, or unconvincing for funders.
The HeritX Banbury Conference in November 2015 changed this. After two days, together with some of the leading researchers, drug developers, FDA experts and families affected by BRCA cancers, we were able to develop and agree on a goal, path and specific actions forward, the HeritX Accelerated Roadmap to Prevention. The participants left our workshop with great enthusiasm, ready to start working on the Roadmap in their labs.
I still remember looking from the conference facilities at Cold Spring Harbor Laboratory over the Long Island Sound – right after the workshop – and saying to myself, "We no longer wait for cancer and then do something. This is the beginning of the new cancer paradigm, of prevention."
4. HOPES FOR THE FUTURE: Cancer can and must be prevented. We believe it is possible to spare people the experience of cancer, for example through vaccines that eliminate pre-cancer cells before they turn into cancer. This has already been achieved in the field of infectious diseases, and several life-threatening infections have been eliminated. Our vision and goal is to make this possible also for cancer. #