FROM RUSSIA WITH LOVE

Plekhanov Russian University of Economics Winter University 2018 University of Tomorrow: Innovative Pedagogy and Methodology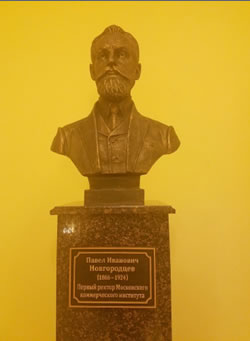 It was a distinct honor to be the keynote speaker and workshop facilitator for the XIX Winter School, Plekhanov Russian University of Economics in Moscow. Thematically, Plekhanov's Winter University focused on "Current Global Trends in Teaching English." The Head of the Foreign Languages Department, Irina Ekareva, Ph.D., Associate Professor, a highly regarded scholar of historical sciences, founded the yearly conference in the spirit of the importance of lifelong learning. Collectively, the department instructors pass professional international exams and participate on a regular basis in international conferences and grants. The Foreign Languages Department is actively introducing and using the latest interactive technologies in teaching foreign languages through conferences and hiring international specialists for workshops and conference presentations.
Prof. Ekareva's overarching conference theme was on the urgency to adapt to a rapidly changing world while creating agile mindsets in students and facilitators. She opened the conference with her observations on the acceleration of change domestically and globally. Her remarks crystallize a common global theme on the far reaching disruptors within the education landscape and the dynamic developments in regards to career pathways for the iGen and Gen Alpha generations. Both Generation Alpha and iGen are the first smartphone generations in our history to be immersed from birth in the super-connected social networking and gaming landscape.
"We all feel very acutely that the world around us has changed dramatically. The future has arrived. Now we are living in a new world, significantly different from what is familiar and comfortable to us, what it was until very recently. What is this new world like?
Computers, mobile telecommunication, genetic engineering; high technology, global market economy, everyday challenge to patriarchy, general awareness of environmental problems and much more. And how the language changed?
The main thing is that we live in a new world in the information epoch, though we were born and brought up in the industrial one. According to forecasts, over the next ten years up to 12-15% of now existing basic occupations, which are currently around us, will disappear."
The daily workshops designed and facilitated by Dr. Cowin were: Current Global Trends in Teaching English; Developing Materials and Resources in Teaching English – Methodology; E-learning & Micro-Methodology in Teaching English; and E-Resources Discovery and Analysis. As a final project, participants submitted online learning modules for their EFL courses focused on content-based instruction while incorporating the flipped classroom model.
While designing the workshops it became clear that many of the communicative activities and teaching approaches would require participants to step outside their comfort zone. Over the course of five days, the workshop attendees were challenged to incorporate new teaching approaches based on communicative, student-centered components and activities. Through using Harkness method strategies which encourage open classroom dialogue, the workshops were transformed into "Think Tanks" emphasizing a nurturing environment. This anxiety-free, collaborative approach supported risk taking, opening up within the group, and personal initiation of hand-on activities and projects.
Plekhanov University of Economics, the Foreign Languages department, and the program schedule were organized to the last detail. The University facilities were not only sparkling clean, but everything worked – from computer and internet access to the projectors. The attendees were teachers, instructors and staff members not only from Plekhanov but other institutes of higher learning such as Moscow University. Marya Zarudnaya, Deputy Head of Foreign Languages Department and Dana Saulembekova, English teacher, were invaluable guides during this unforgettable week in Moscow.
Upon reflection, the four C's: communication, cooperation, creativity and critical thinking are culturally transferable and as relevant as ever in engaging teachers and students to become agile thinkers, leveraging learning for continuous improvement. #
Dr. Jasmin B. Cowin is Associate Professor of TESOL and Bilingual Studies at the Graduate School of Education, Touro College, NY.