THE CITY COLLEGE OF NEW YORK
CCNY Enjoys New Life Under New President, Dr. Vincent Boudreau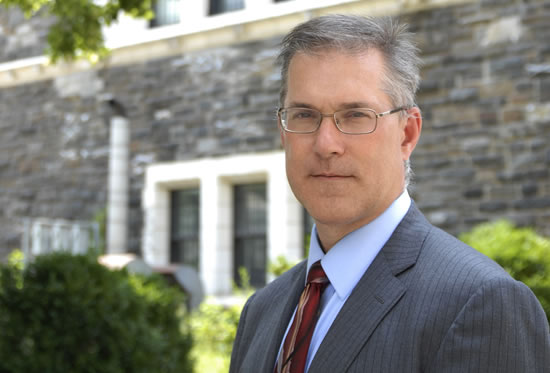 Dr. Vincent Boudreau, President, The City College of New York
The City College of New York welcomed its new president, Dr. Vincent Boudreau, at the end of last year. Before becoming CCNY president, Dr. Boudreau served as the founding dean of the Colin Powell School for Civic and Global Leadership at CCNY. In his new position, Dr. Boudreau hopes to expand the profile of CCNY while ensuring CCNY graduates are not just academically skilled but well rounded and well prepared for post-college life.
"Our whole mission is to help students figure out the relationship between what they are studying and also to promote skills that will put them in leadership positions," said Dr. Boudreau. As an example, Dr. Boudreau would like to ensure that students who study science and the humanities are not just well educated but also aware of public policy and immigrant affairs.
Dr. Boudreau is also hoping to ramp up public funding for high education. "We can only survive if we figure out how to balance the budget," he said. He hopes to raise the profile of CCNY so that supporters and investors become aware of how extraordinary CCNY really is. CCNY is indeed a vital part of the education community in New York City and it is making great strides to remain as such. The City College Medical Program is growing at a rapid pace and in doing so, it is promoting the college's central theme of mobility by training physicians to work in underserved communities. Dr. Boudreau's former post, the Colin Powell School for Civic and Global Leadership continues to be a strong and popular program. Currently, 30% of students from City College come through the program. In fact, there are currently about 1400 students in the psychology major, which is part of the Colin Powell program.
Civic engagement and service is an essential part of the narrative for Dr. Boudreau. "We are trying to teach students what it means to have a career in service," he said. This shows in CCNY's statistics: about 50% of graduates do end up going into service careers. "Conversations about immigration, democracy and policy are different when CCNY students are playing leading role in them," he added. CCNY students are part of other majors as well; science programs are very popular as is a program in the School of Architecture.
CCNY is a fast becoming a prominent player on the global stage. The school currently has an exchange program with South Korea that brings a large number of students there every year. "Our students are going to be global citizens so building these types of collaborations is important," he said.
Being president of a massive institution like CCNY does not come without challenges. "Coming in during a crisis transition left a lot of questions about finances on campus," he said, adding, "… we were alienating donors by not being a good shepherd of their philanthropy." To combat this, Dr. Boudreau instituted a policy of absolute transparency. This attitude has helped to remedy some of these issues and they continue to improve. Along the same lines, CCNY is certainly in a budget crisis. CUNY, in general, is underfunded. Dr. Boudreau knows that a lot hinges on what happens this year.
Despite the challenges at hand, Dr. Boudreau is optimistic for the future. "This is one of the most dynamic education spaces in the world and there are so many opportunities to work with the thought leaders around us." said Dr. Boudreau. With the new president at the helm, the future looks bright for City College. #