The Opioid Crisis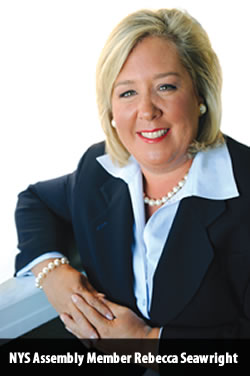 As your neighbor in our community and as a mother of two college students, I view the national crisis we are facing regarding opioid addiction as distressing and in need of action; as your legislature representative, I have been working with leadership in Albany to help ensure that action is both comprehensive and effective. During the 2016 legislative session, I supported sweeping legislation to combat the opioid and heroin crisis in New York State. While it is impossible to legislate good health and happiness, it is possible to legislate resources and budget funding that can help each individual achieve better health and an enriched quality of life. Our response, as elected government representatives, to the opioid epidemic in our State was considered in the same manner any thoughtful and caring family would react to a complicated health or safety crisis in their own home; acknowledge there is a problem, confront the issue, and provide supportive resources to assist the individual rehabilitate, recover and reach potential.
Sadly, the use of opioids has become ingrained in the lives of too many in our society. How can we prevent this from happening? Those facing addiction to opioids did not always become acquainted with the drug on dark street corners, but rather because they obtained and abused prescription pain killers. That's why a major piece of the state legislation adopted was to limit the number of days a doctor could prescribe such prescription drugs bringing it down from 30 days to just 7. It also requires pharmacists provide understandable warnings about the risks associated with pain medication as part of the script. We included a mandate that physicians and other professionals who prescribe pain medication participate in education on addiction and pain management. By putting these safeguards into place we reduce the number of our people in New York who initially enter into the cycle of opioid use through prescription pain medication.
The next issue of concern was opioid overdose and how often it could lead to death. According to the New York State Dept. of Health, in 2016 there were 8,444 reported opioid overdoses. Naloxone is a drug that can save lives. Naloxone actually reverses overdose caused by prescription pain medications, other opioids and heroin. It works by reviving a person from an opioid overdose. That is why in New York State, we've required insurance coverage for naloxone and eliminated the need for insurance pre-authorization for consumers. Furthermore, several agencies in New York State have worked to train police and other first responders on how to administer naloxone, which many first responders now carry with them. As an officer of the Buffalo City Police Department says, "I administered one dose of naloxone to an unresponsive subject. The victim became alert within two minutes."
The next phase, of course, is rehabilitation and recovery. As part of the legislation, we increased the number of "treatment beds" and allowed more time for those seeking treatment to be evaluated increasing the hours from 48 to 72 hours providing an additional day for those affected by an overdose to stabilize and to seek appropriate longer-term treatment. We also required that hospitals, whose emergency rooms people suffering from addiction are often brought, provide resource information about treatment centers upon patient discharge. We all know that even after treatment some patients do relapse thus, the legislation provides "wraparound services" to promote long-term recovery. These services include education and job resources, legal, childcare and peer support groups.
There are still too many New Yorkers addicted to opioids. We must be watchful of our children, neighbors, friends and colleagues-look for signs and be responsive to them. We must not feel ashamed or embarrassed if we need support in confronting opioid addiction. The hopeful news is if we do recognize someone is suffering from addiction, the State of New York has "your back" and there are resources for you, as a caregiver as well as for the person afflicted to get and stay well. Even when holistic legislation offers possibilities for prevention, rehabilitation and recovery, it still takes a village to share the information and spread the news. Let us hope that in 2018 the progress we have made in reaching out, providing outreach and support to those confronting this public health crisis continues and as a result the crisis is downgraded to a problem and eventually becomes just a memory of what we, as a society, overcame.