CAREERS
Edwin Toribio: A Veteran's Journey to Help Others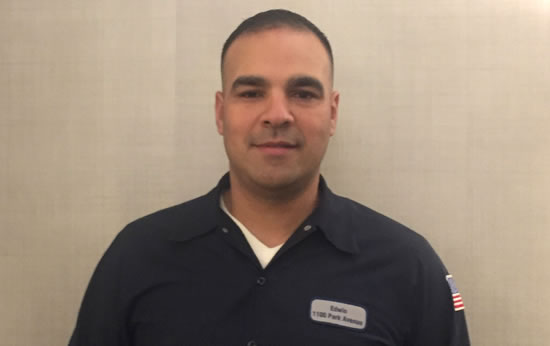 Edwin Toribio
Edwin Toribio has made serving others his life's work. Toribio grew up in Williamsburg, Brooklyn and attended Brooklyn Technical High School where he was heavily involved in biochemistry. A star student, he was accepted to the prestigious Massachusetts Institute of Technology but could not attend due to financial constraints. It was then that he spoke with a recruiter who inspired him to join the marines. Why the marines? "They're the best," Toribio said proudly.
While the most common contract length is around four years, Toribio enlisted for fourteen. During that time, he served in a few different capacities; he was an instructor for the reserves and eventually went on to become a recruiter. He described recruiting as particularly difficult. "We were in the middle of the war in Afghanistan and the war in Iraq. Recruiting people at this time was tough but the demands were there," he said. Toribio described his grueling work schedule which consisted of 16 hour days, 7 days a week with only the first Sunday of every month off. While recruiting was challenging, it exposed Toribio to an alternative venture that would stick with him for years to come.
After his tenure with the Marines, the determined vet went on to study Business Management at LaGuardia Community College. After receiving his Associates degree, he had a shift in course. After some soul searching, Toribio decided that he wanted to pursue a degree in Human Resources. It was the face-to-face interaction from recruiting that Toribio felt he enjoyed the most. He then went on to receive a Bachelor's in Human Resources from Devry University. The education was paid for by the G.I. Bill.
His course then shifted once again. Toribio sensed a strong need in the veteran community for counseling. He saw many of his peers suffering from PTSD, anxiety and depression without adequate care. This inspired him to pursue an M.S. in Mental Health and Rehabilitation at Hofstra University. "It's my way of staying in contact with the military. It's my way of giving back to the veteran community and helping veterans," he said. If all goes as planned, Toribio will graduate from the program in the summer of 2020 and go on to work in Veterans Administration at one of the hospitals or clinics here in New York City. In this role, he will help fellow veterans through their trials and tribulations Specifically, he hopes he can contribute to a bettered system; one where it does not take months and months for veterans to be seen when they are in need of health care.
While Toribio's journey has had ups and downs, he is ultimately happy with the path he has chosen. "It has made me into the man I am today," he said. Toribio's story shows that with perseverance, selflessness, and education, all things are possible. #