CAREERS
Alejandro Cisneros, Film & Music Entrepreneur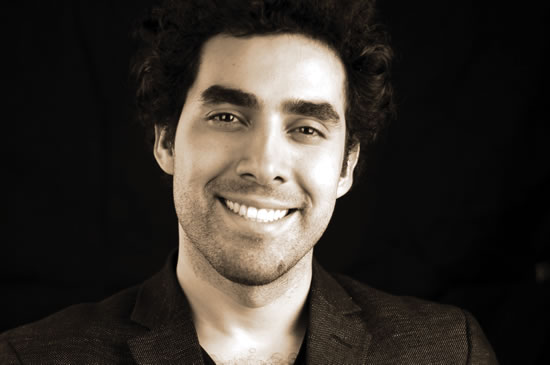 Alejandro Cisneros
Where do you work, how long have you been there and what is your full title?
In 2015 I became the CEO and co-founder of The Pillars Productions, LLC, and since July of 2016 I have been working full-time as the official Video Producer and Visual Storyteller for the prestigious New England Conservatory. I believe that jobs are not static sculptures, but flexible building blocks. By merging my two jobs, I see myself as someone becoming the architect of my own career.
Where did you attend school and what did you study?
I moved to Boston in 2011 to study Film Scoring and Music Production & Engineering at Berklee College of Music. Before that, I completed a B.A. in Mass Communication, with a concentration in Radio, TV, and Film from the Instituto Tecnológico y de Estudios Superiores de Monterrey, Mexico. During the same period I also earned a degree in Classical Guitar Performance from the Escuela Superior de Música y Danza de Monterrey; I graduated from Berklee in 2014.
What is your favorite part of your job?
Creating an original idea from conception to completion is my favorite part of what I do. It is like conceiving a baby; the joy of making your original ideas tangible is what keeps me smiling and motivated everyday. What is really amazing is to see how your creations can impact people's lives. It is inspiring to know that you can really help make the world a better place.
Some challenges?
I think that making a living—to be able to sustain economically your family—is the biggest challenge. You reap what you sow; if you want to make a great living out of this career, you need to work from a very solid and powerful foundation. Inventing your path and by discovering unique ways to survive everyday in this industry will be fundamental for your success.
What is the salary a young person coming out of college could expect in this field?
For those with 0-5 years' experience in the field, an early career salary is between $43,800 to $50,000 and for alumni with 10+ years' experience in this field a Mid-Career Salary range of $78,100 to $79,300. Compared to the best universities and colleges by salary potential, their early career salary ranges from $62,000 to $81,800.
Have you had any mentors?
Absolutely, just to mention a few of them; while I was a Berklee student, the film composer George Clinton, the legendary audio engineer and producer Susan Rogers, the life coach Pratt Bennet, and the music business expert Clint Valladares, among many others. They became very important parts of my life; it was a learning partnership between them, with vast experience in their fields, and myself that wanted to learn a lot. Currently with the help of SCORE, a nonprofit dedicated to helping small businesses get off the ground, I've been mentored by Jim Crisci. He is responsible for teaching me everything I need to know about accounting, book keeping and finances; key skills to develop as an entrepreneur.
What advice would you give to someone looking to have a career in your field?
Your success will be determined by your ongoing mental conversation. Before embracing your life in this path, it is important to understand your passions first. Those are going to be crucial because they'll be your energy boosters for the moments of failure. In order to become an expert you need to be willing to fail more than everybody else, including failing more than your peers. Self-respect, discipline, vision, responsibility, confidence, motivation, patience, the willingness to learn a brand new difficult skill every day, and persistence, among a million other things, will be what help you make a living out of this dream. You have to understand that you're the one creating your path in this industry, and that nothing will be set in stone, be certain, or be easy.