It's My Estuary Day: Connection to a NYC Classroom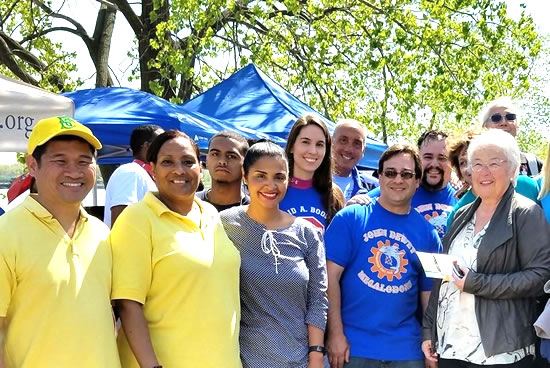 Coney Island is situated on a peninsula in South Brooklyn surrounded by Jamaica Bay and Coney Island Creek. This part of NYC is a coastal habitat for many species of marine life including fish, birds and invertebrates, which also serves as a natural science lab for educators. Coney Island is a part of a complex marine environment and its STEM theme can be used to make connections in the classroom between community, schools, businesses, scientists, politicians and colleges. It's My Estuary Day (IMED) is a marine education event that was first organized and led by Commercial Diver & John Dewey High School (JDHS) Alumni Gene Ritter with a team of community members.
The marine environmental cleanups along Coney Island Creek have been happening for many years. Three years ago in May 2015 IMED was launched by Partnerships for Parks, the Brooklyn Marine STEM Education Alliance and the New York State Marine Education Association to help raise coastal awareness. Members from these groups helped organize this marine education event and coastal cleanup in which many schools and organizations currently participate. During the event several hundred students collect about 2 tons of marine debris, and then identify and record it. Students and community also participate in sand coring, seining, water chemistry, species identification, fossil displays, environmental walks, local history talks, coastal resiliency awareness, and many other marine environmental activities.
IMED has created its own environmental culture and helped raise awareness of the health impact of the creek on the Coney Island Community. Every year schools, science organizations and community groups plan and organize IMED. Students and educators at local K-12 schools setup and lead marine environmental science tables for the event along Coney Island Creek in Kaiser Park. IMED helps build and maintain a positive educational school climate and uses a common environmental theme that all subjects can relate to.
The local creek, bay and ocean are great STEM teaching tools to help connect youth learning with their local environment. At John Dewey High School (JDHS), led by Master Principal Connie Hamilton, there are several courses with environmental units aligned with a STEM transdisciplinary curriculum and approach. English teacher Robert Kanyuk had a class that won an award for their writing on work relating to clean water in Brooklyn. Robotics teacher Filippo Dispenza's students are currently designing a robot to clean the local Coney Island beach. The local marine environmental issues help him relate to his students, spark new ideas and create innovative thinking through a youth perspective and initiative. Special Education Earth Science, Living Environment, Food Science (hydroponics) & Marine Science Teacher Wade Moody uses the local creek cleanups and the JDHS oyster garden to help teach STEM to his students in multiple subjects. Social Studies Teacher Thomas Stoppini uses NY Harbor geography to teach the Battle of NY during the Revolutionary War. He is able to relate student knowledge of NY Harbor to explain other historical areas of the world. In Marine Science the curriculum connects the local estuary and geography of the marine environment nearby the school and community to connect all lessons to student knowledge. IMED is an outdoor educational event that gives students and educators opportunities to create very powerful and strong learning tools.
When Superstorm Sandy occurred in October of 2012, former NYC Mayor Michael Bloomberg called for an evacuation of millions of New Yorkers living at or a few feet above sea level to leave NYC using coastal evacuation routes. This unfortunate storm and flooding of NYC helped raise coastal awareness in all New Yorkers. IMED uses the local environment and NYC geography to help teach NYC youth in all subjects by making school more relevant and helping students engage in their education, school and community. #
Lane Rosen is a science teacher at John Dewey HS, NYSMEA President & BMSEA President