STEP Gives Students a Lift at Barnard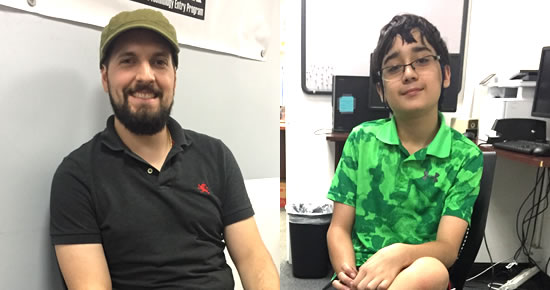 (L-R) JC Soto & Luca Maiorino
For the past three decade, the Barnard College Science and Technology Entry Program, known as STEP, has been helping students from underrepresented and economically disadvantaged communities find their footing in the world of STEM and licensed professions. Designed for students in seventh through twelfth grade, STEP gives middle and high schoolers the opportunity to take exciting enrichment courses at institutions of higher learning with the intention of exposing them to post-high school possibilities and career options. In addition, Barnard also offers CSTEP, which is the Collegiate Science and Technology Enrichment Program which prepares students for professional licensure or careers in the scientific, technical including social work, law, teaching or health-related fields. STEP is funded by the New York State Education Department (NYSED) as well as by Barnard College.
The program at Barnard, which runs through the academic year as well as through the summer, offers a diverse array of electives; Urban Farming, Intro to Business, Culinary Arts, Forensic Science, Biotech, Game Design and Film Analysis. "We try to provide the very intensive science based courses but also provide some liberal arts and humanities courses since we are at a liberal arts institution after all," said Associate Director JC Soto, adding that providing liberal arts courses is helpful to those students who will surely take some like electives along with their sciences courses when they attend college.
The courses are particularly hands-on and interactive. For example, Biotech classes take place in a Biology Lab at Barnard and the Urban Farming class visits the campus Greenhouse for activities. In addition, students go on weekly field trips to educational locales across the city.
13-year-old student Luca Maiorino, who has been part of STEP since the last academic school year, chose to take Intro to Business and his favorite class, Urban Farming. "In my Urban Farming class we are building things, making planters, planting a lot and making 3-d models," he said, adding that in his business class he and his classmates are learning coding and creating websites using basic HTML and CSS.
Roughly 100 students attend STEP throughout the year though the classes are kept small. For example, the summer program included around 30 students with 6-7 students in each class. The classes are taught by instructors with the support of Teacher's Assistants from Barnard and Columbia who are there to "support the students, help flush out ideas and assist them with projects or questions they may have."
In order to be accepted to STEP, students must go through the application process and show that they are either members of historically underrepresented community or disadvantaged according to NYSED. Partnerships with certain New York City schools and special recruiting events also contribute to some acceptances. The student body of STEP is incredibly diverse; a fact Soto is particularly proud of. "We have a very diverse group of students. This diversity is important because when they go off to a college campus they are going to have a very diverse experience there," he said.
STEP has shown to be a successful operation. Just this past school year, graduates went on to attend various well-respected institutions including three students who went on to Barnard. Others went on to participate in enriching internships such as at the American Museum of Natural History. Luca can personally attest to how STEP has changed his trajectory for the better. "STEP is a great help. I came from a school that was more focused on social and emotional skills rather than academics and my grades were not the best. I was a bit behind… but then I went to STEP and now my grades are all A's! It's made a terrific difference," he said proudly.
STEP has made big differences despite its small size on the back end. "For a small department we do a lot," said Soto. The STEP department consists of just three people, assisted by a few administrators from other Barnard offices who manage the many students, TA's and instructors. "We are able to do this work because of the passion and dedication we have for our students," he added. #