The Future of Education Begins Today at Dwight Global Online School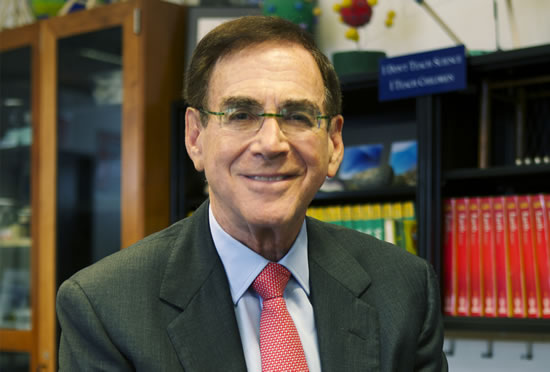 Chancellor Stephen Spahn, Dwight School
Imagine walking into a lively high school debate about Chinese history. An American student in California recounts her visit to the Great Wall of China just the week before. Another student from Paris notes a parallel to French history. A third student, who is from Tokyo, joins the class courtside after finishing tennis practice and adds her unique perspective. The teacher, located at a school in New York, guides the discussion.
Is this classroom setup a figment of the imagination? In the past, it would have been, but at Dwight Global Online School, it's now a reality, thanks to technology that links the best faculty and students around the world.
Inspired by the ethos of the International Baccalaureate, Dwight has long embraced the vision that our graduates should be prepared to thrive and prosper anywhere in the world. This mission is more important than ever in today's interconnected society, where the pace of technological change is so rapid that we cannot envision what tomorrow will hold. Designed to be the best school in the world, Dwight Global embodies what truly may be the school of the future — today.
A Look at Dwight Global's History:
Dwight, the first school in the Americas to offer the comprehensive International Baccalaureate, has long been an IB frontier school. Three years ago, Dwight was one of six original schools worldwide selected by the IBO to be an IB Open World School. Through this pilot program, the IB aimed to widen access to its curriculum and eliminate geographical barriers by authorizing designated schools — IB Open World Schools — to link digitally with other schools to offer IB classes. While the IB did not move ahead with this program, Dwight embraced online education as the way of the future.
Led by experienced, independent school educators with dedicated Dwight faculty, the program quickly grew in size. Over the last three years, graduates have received acceptances from some of the best colleges and universities in the world, including Harvard, Stanford, Brown, Berkeley, Notre Dame, University of Southern California, and Vassar.
In the fall of 2017, Dwight is launching Dwight Global Online School, which is an exciting next step in the evolution of our program. Working with a team from Stanford Online High School, we are offering more real-time classes, as well as residential experiences so that students can come to Dwight in New York to meet each other and their teachers in person.
Our Methodology:
Dwight Global provides students with a complete independent school experience designed to prepare them to be global leaders. We offer a "best of all worlds" approach, which draws from the strengths of our master teachers and programs at Dwight campuses worldwide.
Dwight Global classes are "synchronous," which in online terminology means they take place in real time: Students and teachers log on to a virtual seminar, where they can see and hear each other, talk, and collaborate — just as though they were sitting around a seminar table. Robust debates and discussions occur online just as they do in real life.
Through a "flipped classroom," students prepare for class in advance by reading or watching teacher-recorded videos, so that class time is used for discussion and to challenge one another, guided by a teacher. This approach puts students at the center; teachers truly act as guides, rather than as the "sage on the stage," imparting knowledge in a one-direction fashion. It also enables students to develop problem-solving, critical-thinking and collaboration skills, just as they do in a physical Dwight classroom.
Dwight Global students have a full complement of work outside class (or "asynchronous work"), which they complete on their own time, though a teacher is always available to help if needed.
We welcome Dwight Global students to our New York campus several times a year for residential experiences. They also have opportunities to join extracurricular activities and Dwight trips around the world. Students receive excellent college guidance starting early in ninth grade. And, for students who are located near, or are traveling to, a city with a Dwight campus, they may take some of their courses in person.
Igniting the Spark of Genius in Every Child:
For 145 years, Dwight's mission has been to ignite the spark of genius in every child. Dwight Global Online School extends this legacy and enhances Dwight's ability to customize an educational path for every student. Most significantly, our students have found that the pursuit of excellence in one domain does not mean having to settle in others. Our students, who hail from around the world, include:
Performers: Students pursuing acting, dancing, music, and modeling are able to audition, train, and rehearse while maintaining their academics.
Athletes: Students pursuing elite athletics outside of school have found that Dwight Global gives them the time and flexibility to pursue their passion and compete at the highest levels.
Students seeking a premier U.S. independent school experience not available in their home countries.
Travelers: Students who travel with their families have the freedom to move without disrupting their education. Students can take classes from anywhere, as well as on Dwight campuses in New York, London, Seoul, and Shanghai.
Others desiring a more personalized educational path: Just as no two students are alike, no two student journeys at Dwight Global are the same. Our faculty work one on one with students to map an individualized course of study.
Preparing Global Leaders:
Dwight has long recognized that to succeed in our interdependent world, students must be equipped with the communications and critical-thinking skills needed to bridge cultures and countries to solve problems on a global scale. They need strong language skills, as well as other competencies such as creativity, collaboration, and flexibility. Not only do students learn these skills at Dwight Global, but also they have a full complement of world languages from which to choose.
Additionally, the Digital Age has rapidly accelerated the need for educators to prepare students to succeed in a highly competitive global marketplace. They must be prepared to succeed at jobs that have yet to be invented; some studies estimate that one-third of today's graduates will have to create their own jobs. That's why Dwight and The Dwight School Foundation launched Spark Tank, an incubator where students learn how to develop their own ideas from concept through market launch. Dwight Global students have the opportunity to participate in this cutting-edge program that teaches the skills students need to be entrepreneurs and to chart their own futures. #