The Child Mind Institute Honors Dr. Kenneth A. Dodge at Annual Symposium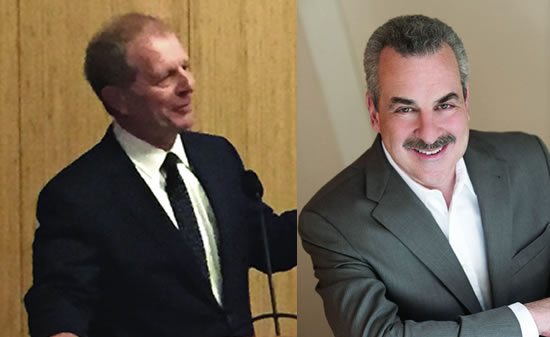 (L-R) Dr. Kenneth A. Dodge & Dr. Harold Koplewicz
Recently, the Child Mind Institute held its annual On The Shoulder of Giants symposium. The morning celebration of scientific achievement in child and adolescent psychiatry, psychology and developmental neuroscience showcased the work of Dr. Kenneth A. Dodge. Dr. Dodge, Pritzker Professor of Public Policy and Founder of the Center for Child and Family Policy at Sanford School of Public Policy at Duke University, was honored as this year's Child Mind Institute Distinguished Scientist. In addition, the event recognized five "Rising Scientists."
Dr. Dodge's work primarily focuses on the causes of anti-social and aggressive behaviors. In the words of Dr. Harold Koplewicz, President of the Child Mind Institute, Dr. Dodge's work "provides a model for understanding why some young children grow up to engage in aggressive behaviors and provides a framework for intervening early to protect children and their communities from the consequences of violence."
The first two presentations were by two distinguished protégés of Dr. Dodge. The first to present was Dr. Jamie Hanson, an Assistant Professor in the Department of Psychology at the University of Pittsburgh. His presentation, titled "Advance Models of Developmental Neurobiology and Learning to Understand the Effect of Early Life Stress", showcased the imaging research he has done with children in a longitudinal study. He found that students who experience early stressors such as trauma or child abuse are more likely to experience changes in the brain circuitry- specifically the neuro-connections that are associated with rewards and impulsive decision making.
The second presentation was by Indil Yazgan, a Gender Violence Prevention intern at Duke University Women's Center. Yazgan's presentation, "Early Childhood Social and Environmental Risk Factors and Later Criminality: the Potential Mediating Role of Neurocognitive Functioning", marked the first time that the symposium highlighted an undergraduate. Her presentation concerned her longitudinal study regarding children who experience trauma early in life. She found that those who experience early trauma grow up to show a decision making style that is very impulsive and reward driven. Dr. Dodge's presentation "Prevention of Serious Conduct Disorders and Chronic Violence in High-Risk Children" followed. It showed how one could translate these findings into intervention.
In keeping with the idea of mentorship and protégés, the Child Mind Institute also awarded laurels to five "Rising Scientists." The honorees were Sarah Adamo of Smithtown High School West, Zara Malik of Columbia Grammar and Preparatory School, Hawthorne Ripley of the Packer Collegiate Institute, Amy Shteyman of John L. Miller Great Neck North High School and Kyle Zarro of Ossining High School. "Meticulous", "organized", "patient", "responsible" and "extraordinary" are just some of the descriptors of the Rising Scientists according to the teachers that nominated them.
The event was held at the Advanced Science Research Center at the Graduate Center of The City University of New York. Dr. Koplewicz praised The City University of New York for increasing its science program—a priority across their 24 campuses. #