Wynton Marsalis Celebrates 30 Years of Jazz at Lincoln Center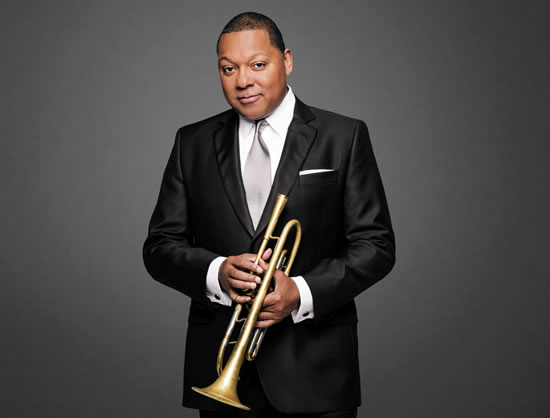 Wynton Marsalis (Photo: Joe Martinez)
To many, the name 'Wynton Marsalis' is synonymous with the word 'jazz'. Marsalis has won nine Grammy awards in both jazz and classical categories, has been awarded a Pulitzer Prize, named an NEA Jazz Master, and has appeared on CBS This Morning as a Cultural Correspondent. He's currently the director of the Julliard Jazz Program, often referred to as one of the world's most prestigious conservatories and perhaps most visibly, the artistic director of Jazz at Lincoln Center, which is now in its 30th year.
Jazz at Lincoln Center currently programs over hundreds of concerts a year across three stages at its home at Columbus Circle. The Jazz at Lincoln Center Orchestra, lead by Wynton, performs countless times a year throughout the country and overseas. With a career so uniquely fruitful, it would be safe to assume that Wynton's outlook on jazz would be particularly rose-colored. Within the first five minutes of speaking with Wynton it became clear that this is not so.
"There are no jobs in this field," said Marsalis bluntly. Generally speaking, he's right. In the United States, there are thousands of students graduating with a degree in 'Jazz Performance' or a comparable jazz-oriented degree every year from a number of well-respected institutions like Juilliard, Manhattan School of Music, Berklee College of Music, and others. Meanwhile, the rate of pay in New York City for club dates has stayed stagnant. As funding for the arts continues its traditionally uphill battle, there are fewer and fewer orchestras readily hiring. In most circles, a teaching position is coveted but elusive. So what is a young musician to do? For Wynton, the only way to succeed is with an entrepreneurial outlook. "You need to create jobs. If you want to be part of this, you can't just walk out in the wilderness and look for a road. You need to get ready to lay the pavement down. You need to create the infrastructure for it." This sentiment is drilled into the heads of his Juilliard students; many of which do indeed go on to have fruitful careers in music. Jon Batiste, who currently leads the house band on the "The Late Show With Stephen Colbert" is just one in a long line of Juilliard alumni that have risen to prominence in the last few years.
Regardless of the career outlook, Wynton thinks that jazz education is incredibly important- and not just to musicians. The fundamentals of jazz (improvisation, swing and the blues) can be influential symbolically, literally and metaphysically in life. "Improvisation teaches us to have respect for ourselves. Swing teaches us that others are creative and the blues teaches us that sometimes things don't work out," he said. These principles go well beyond musicality and can be applied to most any profession.
Starting early, he says, is key. He encourages parents to bring their children to at least 4 non-commercial events a year such as a play or a symphonic performance. "They're going to be bored. They won't like it. But make them sit through it… and make sure they see you engaged in the art form." he offered. This will help to develop their attention span, which will be beneficial to them later in life.
For those that want to engage their child with specifically jazz at an early age, Jazz at Lincoln Center offers an entry point with WeBop: an early-childhood jazz education program for families and children starting at 8 months through five years old. In addition to WeBop, Jazz at Lincoln Center provides a multitude of jazz education programs for all ages including Middle School Jazz Academy, Jazz For Young People, and Swing University, which is open to all ages. "From 8 months to 80 years old, we've got you covered," said Wynton.
While New York City is fortunate to have an institution such as Jazz at Lincoln Center so involved in the community, most other cities are not so lucky. The exceptions are San Francisco, where the SF Jazz Center (which produces around 300+ jazz concerts a year) is located, and in Washington DC, where Jason's Moran's Jazz program at the Kennedy Center is making great strides. Still, Jazz at Lincoln Center remains the most prominent of these due to its sheer scale, the involvement of Wynton and its location in the de-facto jazz capital of the world.
In the age of the certainly not pro-arts President Trump (especially compared to his predecessor who celebrated International Jazz Day at the White House), how does Wynton wade through the waters? "Advocate. There are battles being waged all the time," he said. "If you think you shouldn't fight you're going to lose. If you aren't ready for that big man to hit you're going to lose. For good causes, you need to be aggressive." The first step to this, according to Wynton, lies in advocating for jazz, aggressively.
Advocating for a cause is something Wynton has done consistently throughout his life. He has consistently advocated on behalf of African Americans and against racism. His Pulitzer Prize winning oratorio "Blood on the Leaves" which told the story of slavery in the United States and "what it means to be free" is just one example of this. When Hurricane Katrina hit in his native New Orleans, Marsalis was extraordinarily visible when it came to raising money and providing relief. Therefore, his call to action to advocate for jazz should be taken seriously. #